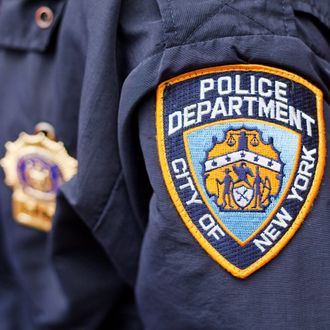 49-year-old Manny Encarnacion, a cop assigned to East Harlem's 25th Precinct, has been detained in India, NYPD officials said on Friday. Encarnacion was arrested at New Delhi's Indira Gandhi International Airport on March 11 after security screeners searching his luggage found three bullets tucked in the pocket of a jacket, which put him in violation of India's Arms Act of 1959. Encarnacion, who had traveled to India for a vacation with his wife, has been released on bail, but he can't leave the country until his case has been resolved. 
The NYPD says that Encarnacion had visited a firing range before leaving for his trip, and that he forgot he had the bullets and brought them overseas by mistake. "It's ammunition he's allowed to have over here, but obviously not over there," said Sergeant Carlos Nieves. Some people — including Republican New York Congressman Peter King and Democratic New York Senator Chuck Schumer —  see Encarnacion's detainment as retribution for the arrest of Devyani Khobragade, a New York-based Indian U.N. official who was accused of mistreating her housekeeper, as well as lying on a visa application. (Khobragade left New York in January.) A NYPD source told reporters that Encarnacion said that, as he was being arrested, an Indian officer referenced Khobragade, saying, "You are a New York City policeman who likes to strip-search our diplomats." 
The State Department has said that it is aware of Encarnacion's situation, though privacy concerns prevented them from saying too much about it. Asked about whether she felt that the arrest had anything to do with Khobragade, spokeswoman Marie Harf told NBC New York, "I think we feel like we've moved past this and hope the Indians have as well." Meanwhile, Encarnacion's friend told the New York Post that the officer "isn't sweating it that much because at least he gets to spend time with his wife," who is a student in Iran and has remained with her husband in India. Either way, let this serve as a reminder for travelers to double-check their bags for anything unusual before they leave the country.