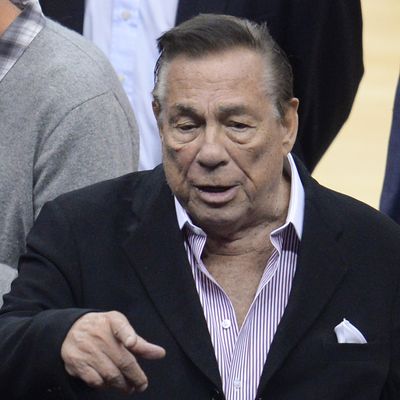 Now that the world has had some time to process the recording of L.A. Clippers owner Donald Sterling yelling at his girlfriend for "associating with black people" (among other things), the reactions are rolling in. First, there's one from President Obama, who addressed the situation during a press conference in Kuala Lumpur: "The owner is reported to have said some incredibly offensive racist statements that were published. I don't think I have to interpret those statements for you; they kind of speak for themselves," he said. "When people — when ignorant folks want to advertise their ignorance you don't really have to do anything, you just let them talk. And that's what happened here." And so it is.
Meanwhile, back in the United States, NBA commissioner Adam Silver said that officials were still looking into the authenticity of the tape while acknowledging that the league would consider "a range of sanctions" against Sterling, "depending on the findings of our investigation." After promising to make sure that investigation happened "extraordinarily quickly," he announced that, "Mr. Sterling has agreed he will not attend his playoff game tomorrow in Golden State."
Clippers coach Doc Rivers told reporters that the team had considered boycotting the aforementioned game, though they ultimately decided against it. "I think the biggest statement we can make as men, not as black men, as men, is to stick together and show how strong we are as a group," Rivers said. "Not splinter. Not walk. It's easy to protest. The protest will be in our play." Clippers center DeAndre Jordan did add his own powerful protest against Sterling to Instagram:
And here's what happened at that Clippers game:
Asked about Sterling before a Saturday playoff game against the Charlotte Bobcats, Heat star LeBron James said there was "no room" for the Clippers owner in the NBA. "Obviously, if the reports are true, it's unacceptable in our league," he said. "As the commissioner of our league they have to make a stand. They have to be very aggressive with it. I don't know what it will be, but we can't have that in our league."
Bobcats owner and former NBA player Michael Jordan echoed those sentiments."There is no room in the NBA – or anywhere else – for the kind of racism and hatred that Mr. Sterling allegedly expressed," he said. "I am appalled that this type of ignorance still exists within our country and at the highest levels of our sport."
Entirely unsurprisingly, the NAACP will no longer be giving Sterling the lifetime achievement award he was supposed to pick up next month. "He is not receiving a lifetime achievement award from the NAACP," said the organization's interim president, Lorraine Miller, on Meet the Press. She noted that Sterling had not directly denied that he made the racist comments heard on the recording. "If you're silent about this, then you're accepting this," she said. "People have got to say that this is not good and do something about it."
And that brings us to Sterling's response: On Saturday, the Clippers president Andy Roeser offered a statement on the owner's behalf to TMZ. After noting that the woman who made the tape, V. Stiviano, is the subject of a lawsuit brought by the Sterling family, Roeser explained that "Mr. Sterling is emphatic that what is reflected on that recording is not consistent with, nor does it reflect his views, beliefs or feelings. It is the antithesis of who he is, what he believes and how he has lived his life." He is also said to feel "terrible that such sentiments are being attributed to him and apologizes to anyone who might have been hurt by them."
Those remarks don't exactly come off as a vigorous denial of the tape's authenticity. And the unearthed extended version of the recording doesn't help.
This post has been updated throughout.