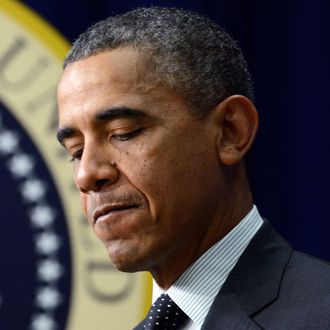 Photo: Pool/2013 Getty Images
That's right: It took no less than the president of the United States to make sure a Texas man did not have to serve three and a half more years in prison because someone typed the wrong number in his sentencing report. Ceasar Cantu pleaded guilty in 2006 to marijuana trafficking with intent to distribute and money laundering, but the offense level was listed at 36 instead of 34, as it should have been, resulting in a 15-year sentence instead of 11 and a half years. An easy fix, right? Wrong.
"A judge ruled that Mr. Cantu did not discover this error in time to correct it through any judicial means; as a result, it can now only be rectified through clemency," said a White House official. President Obama commuted the sentence today, proving that the system works. Nothing to see here.