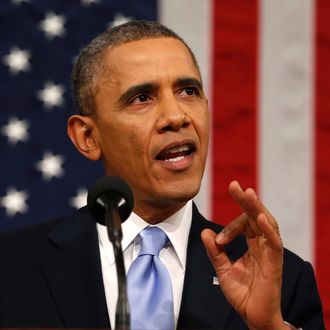 US President Barack Obama speaks on the situation in Ukraine on the South Lawn of the White House on March 20, 2014. Obama delivered his statement before boarding Marine One and departing for Florida.
Photo: LARRY DOWNING/AFP/Getty Images
Despite some technical difficulties, a total of 7,041,000 people managed to sign up for health insurance using the federal Obamacare exchange by Tuesday's midnight deadline, putting the number of enrollees slightly ahead of the administration's original target. Just last Thursday, officials said the number of sign-ups had reached 6 million, so Obama probably has the true procrastinators — the Americans responsible for the 4.8 million visits to HealthCare.gov (and 2 million calls) made on Monday — to thank for the victory.