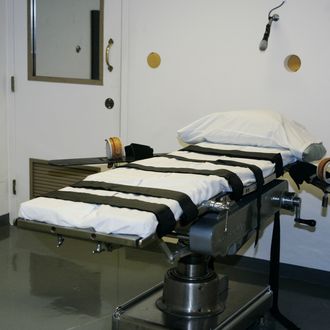 The execution chamber at the Oklahoma State Penitentiary.
Photo: AP Photo
After a lengthy legal battle over Oklahoma's refusal to disclose the source of drugs used in lethal injections, two men were scheduled to be put to death tonight in the state's first double execution since 1937. However, the second inmate was given a stay of execution after the first execution went horribly awry. Ten minutes after he was injected with a sedative, Clayton Lockett, 38, was declared unconscious. Then as the doctor injected two drugs meant to paralyze him and stop his heart, Lockett began to writhe on the gurney and tried to get up. "This was botched, and it was difficult to watch," said attorney David Autry, who represented Lockett.
A curtain was closed to prevent witnesses from seeing what was happening, and a doctor discovered that Lockett's vein had ruptured. "There was some concern at that time that the drugs were not having that (desired) effect, and the doctor observed the [vein] at that time and determined the line had blown," said Robert Patton, director of the Department of Corrections, at a press conference. Lockett's execution was halted 20 minutes after the first drug was administered. About 25 minutes later, he died of a heart attack.
Lockett was convicted of shooting a 19-year-old woman in 1999 and burying her alive. The second inmate, Charles Warner, was scheduled to be put to death two hours later. The 46-year-old was convicted of raping and murdering his roommate's 11-month old daughter in 1997.
Governor Mary Fallin has delayed Warner's execution for 14 days to allow time for a review of what went wrong tonight. "I have asked the Department of Corrections to conduct a full review of Oklahoma's execution procedures to determine what happened and why during this evening's execution of Clayton Derrell Lockett," she said. 
The incident will certainly add fuel to the debate over whether certain forms of lethal injections violate the Constitution's ban on cruel and unusual punishment. Recently, several states have struggled to find execution drugs after drug companies began refusing to supply them to prisons.
This was the first time Oklahoma had used the drugs midazolam, vecuronium bromide, and potassium chloride. Other states have used the combination, but in higher doses. Florida administers 500 milligrams of the sedative midazolam, but Oklahoma only used 100 milligrams. "They should have anticipated possible problems with an untried execution protocol," Autry said. "Obviously the whole thing was gummed up and botched from beginning to end. Halting the execution obviously did Lockett no good."