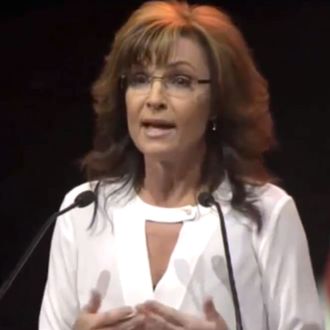 With her legitimate political career all but unsalvageable, Sarah Palin has embraced her new role as a carnival barker. Speaking over the weekend at the National Rifle Association "Stand And Fight" rally at Lucas Oil Stadium in Indianapolis, Palin attempted an Ann Coulter routine meant to offend anyone not white and at least a little racist. "Not all intolerant, anti-freedom leftist liberals are hypocrites," she offered before endorsing torture. "I'm kidding — yes, they are!" Zing — plus 1,000 patriot points.
And then her centerpiece joke, which really had very little to do with the gun nuts directly. "If I were in charge …" — wistful pause — "they would know that waterboarding is how we baptize terrorists." The crowd erupted.
The reaction shots looked pretty much like you'd expect them to: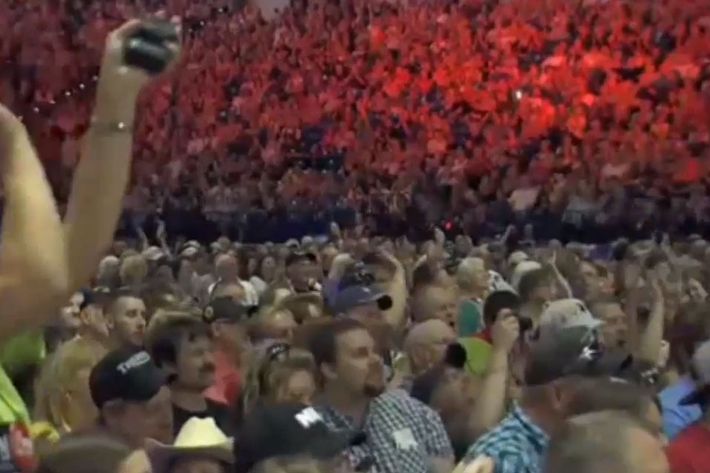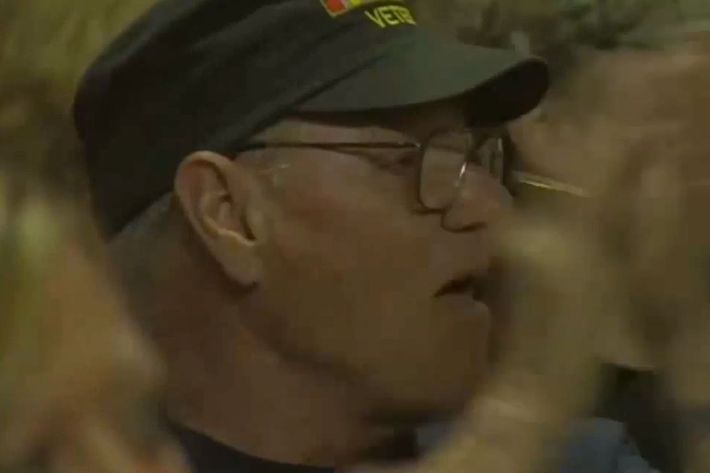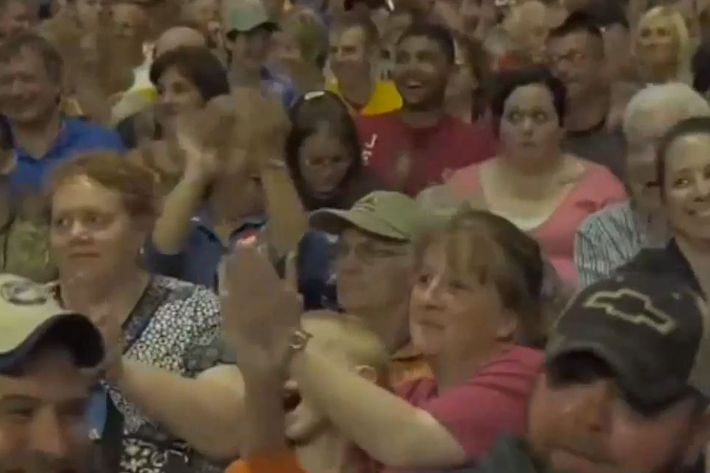 It wasn't her only one-liner. "Gals, you know that nowadays ammo is expensive. Don't waste a bullet on a warning shot," she said.
And: "They are trying — you know who they are," explained Palin in her least comprehensible riff. "If you control oil, you control an economy. If you control an economy, you control commerce. But if you control arms, you control the people. And that is what they're trying."
Palin has since defended the waterboarding remarks, having successfully gotten people outside of the NRA bubble to pay attention to her again. "Would I make it again? Why wouldn't I, yeah, absolutely," she told NBC. "Terrorists who want to annihilate Americans, innocent Americans, our children — whatever it takes to stop them. If I were in charge, I'd be stoppin' em." Let us pray to whatever god she does that Sarah Palin will never be in charge of anything meaningful ever again.