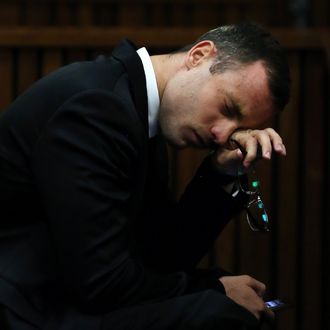 Photo: Themba Hadebe/AFP/Getty Images
The trial of Olympic sprinter and amputee Oscar Pistorius went from gruesome and wrenching to worse today, during a cross-examination of the star athlete, accused of murder for the fatal shooting of his girlfriend, Reeva Steenkamp. On his third day of testimony, Pistorius, who claims he shot through the bathroom door at who he believed was an intruder, faced a "blistering" prosecutor who "vowed to get the truth." 
"You shot and killed her. Say it: 'I shot and killed Reeva Steenkamp,'" said Gerrie Nel. That much has never been in dispute.
The prosecutor also alluded to a video of Pistorius at a shooting range months prior to Steenkamp's death. In the clip, Pistorius says, "It's not as soft as brains but fuck it is a zombie stopper," after shooting a watermelon.
"It exploded. You know the same happened to Reeva?" said Nel, who held up a photo of the woman's wounded head.
"I was there," said Pistorius. "I don't have to look at a picture."