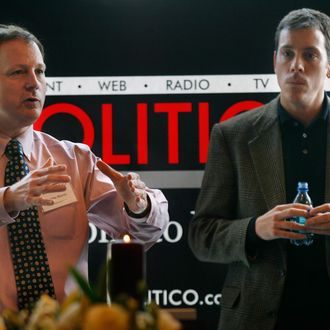 Politico masterminds Jim VandeHei and John Harris.
Photo: Jacquelyn Martin/AP
Is it possible to win the morning on Pacific Time? Politico is willing to try, allowing two of its name-brand journalists to head west in the coming months. Intelligencer has learned that Todd Purdum, the senior Politico writer and Vanity Fair contributing editor, will be taking Los Angeles along with his wife, Dee Dee Myers, the former White House press secretary under President Clinton and new head of communications at Warner Bros.
"Yes, our family is moving to L.A. because of Dee Dee's exciting new job, and, no, I don't expect the relocation will affect my work for Politico or Vanity Fair, which will continue," Purdum confirmed in an email.
The fledgling L.A. bureau, which won't get its own office for now, will also include D.C.-based "On Media" reporter Dylan Byers, whom the internet loves to hate. "I'll continue to cover politics and media in Washington, New York, and around the country — but I love California and can't wait to get out there," he said. But don't get any bigger ideas.
Politico recently expanded outside of Washington with the purchase of local media and politics site Capital New York by its parent company Allbritton Communications, although a note to staff insisted Byers's move "should in no way be seen as the second data point in a larger trend."
"In some respects, New York feels like Washington did in 2006," Politico co-founder/CEO/executive editor Jim VandeHei told Businessweek recently. "It has the appearance of being saturated. It has the appearance of there not being an opening. I don't think that's true. When you look at City Hall, when you look at Albany, when you look at media, even when you look at finance, I think there are huge pockets of this city that are under-covered or that could be covered exponentially better."
The same could be said for L.A., which lacks an all-seeing outlet with national reach that hits the Allbritton sweet spot at the intersection of money, politics, and media in Hollywood.
But here's the internal memo, which says otherwise:
From: Rachel Smolkin
Sent: Monday, April 28, 2014 4:55 PM
To: TP-Staff
Subject: Westward-bound

All,

Wanted to give you one staff update – which should in no way be seen as the second data point in a larger trend.

Dylan is relocating to L.A. in June with his fiancée, and he'll continue to work the media beat for us full time from there. He'll come back here frequently, and in the meantime he's looking forward to many wonderful dinners at Todd's new California home.

For the rest of us … we'll put away the suntan lotion and continue to revel in the myriad joys of Rosslyn.

Rachel