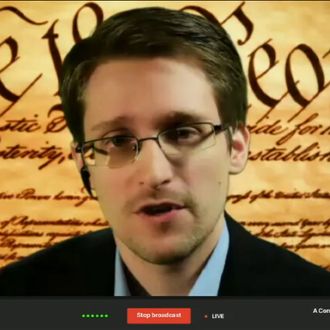 The Pulitzer Prize for public service was awarded today to the NSA revelations reported jointly by the Guardian U.S. and the Washington Post, including work from journalists Glenn Greenwald, Laura Poitras, Barton Gellman, and Ewan MacAskill, based on the leaked documents provided by Edward Snowden. The Guardian was recognized for "helping through aggressive reporting to spark a debate about the relationship between the government and the public over issues of security and privacy," while the Post was credited with "authoritative and insightful reports that helped the public understand how the disclosures fit into the larger framework of national security."
"This newsroom will not be intimidated by power," said Post editor Marty Baron.
Elsewhere, the New York Times swept the photography categories, taking home Pulitzers for Tyler Hicks's breathtaking breaking-news photographs from the terrorist attack in a Kenyan mall and Josh Haner's photo essay documenting the healing of a Boston Marathon bombing victim.
The Post also took home an award for explanatory reporting, for its series on food stamps, while the Boston Globe was awarded in the breaking-news reporting category for its coverage of the Marathon bombing. No award was presented for feature writing, leaving three finalists to wonder where they went wrong.
The full list of winners and finalists can be seen here.