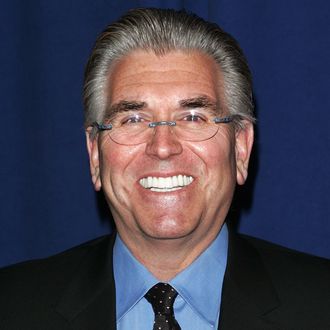 Mike Francesa.
Photo: Jim Spellman/Getty Images
If you've ever watched a YouTube clip with audio from Mike Francesa's radio show — say, the one in which he railed against paternity leave for 20 minutes — there's a good chance it was uploaded by Twitter user @WFANAudio. A fun, creative online community has formed around Francesa's show, and the more than 500 videos he's posted to his YouTube channel have provided it with endless material to share, discuss, and yes, poke fun at. But yesterday, CBS Radio had 88 of his clips taken down from the channel because of copyright infringement, and @WFANAudio says he won't be posting any new ones. CBS Radio's copyright concerns are legitimate, of course, but it's still a bummer for those who want to keep up with the show (and the more ridiculous moments especially) but can't listen all afternoon. The man behind @WFANAudio (who asked that we not use his real name) spoke with Intelligencer over email about why his clips are so popular, and why they were such good promotion for Francesa.
Did you expect this would happen eventually?
Well, let me give some background. This whole thing started out as a hobby. When I [was] younger, I'd actually record some parts of Mike & the Mad Dog on tape, and I'd listen to them while doing homework after school. I have no idea where those tapes are — trust me, I've looked. So after being on themikefrancesa.com, memorable moments would happen, and since I was listening via on the online stream, I figured out a way to record the audio directly onto my computer and save them to a personal cloud drive and share the link. Those links were in Dropbox, but once Dropbox saw a spike in traffic, they'd temporarily suspend access to your link. So I decided to host them on YouTube back in 2012. In total, I had over 550 clips. As of right now, 400 or so still remain.
I didn't want to get in trouble with posting the clips, but as @WFANAudio grew, many of the WFAN guys started following and engaging in the everyday back and forth. In addition, lots of other people in the media and people from CBS Sports also started following. This made me think something wouldn't happen eventually … but I was wrong.
Do you expect more clips will be taken down? Any idea why certain ones were targeted?
No clue. No pattern to which they flagged and which they didn't. Say, like the paternity rant (which is 22 minutes) is still up. You'd figure that would be one of the first they flagged since it's recent. There are tons of Mike Francesa clips out there, including ones older than mine, and with five times the amount of hits. I'm not sure why I was targeted, or why only 88 videos were flagged. I hope all of those other clips remain.
What is it about Francesa that made these types of clips so popular?
When Mike Francesa has a take on a topic, people listen. They can say they don't care, and they can completely disagree with him, but they'll listen. He's a polarizing figure in that regard. In fact, I think it's been such a benefit for him NOT to be on social media where we know about his thoughts on a game or issue in sports. When something big happens, people wait for 1:05 p.m. the next day, just to hear what Mike will say. Love him or hate him, people want to listen.
Have you spoken to anyone from WFAN since they were taken down? If not, do you expect to?
Just a few guys I interact with on Twitter, nothing major. I don't expect to either. The content is theirs, I don't really argue with their reasoning. But as has been mentioned in a lot of places, these clips — and Twitter especially — has made Mike Francesa even more popular than he already was. Accounts like @MikeFrancesaNY have spiraled into other accounts like @WFANAudio, @WFANTrades, and obviously @BizzaroZaun. Heck, even FrancesaCon was birthed out of the fact that we started to realize so many people on social media were loyal listeners and fans.
Deadspin made a pretty good argument that you were his most effective promoter. Do you agree?
Yes, I do think so. Just fire up one of our mentions on Twitter when something big happens on the show … people want to hear it.
Right now, WFAN's website provides full interviews, but not the types of clips you used to post. Do you think they should just embrace all the things people like about Mike — not just the legitimately good interviews, but the sillier segments and the straight-up goofs?
Yes, they need to embrace it. I wasn't doing this for the money, or to get a job on radio or with WFAN (I'm not in the industry). But accounts like mine wouldn't even exist if WFAN had a podcast or made their clips accessible or embeddable. Sure, there are certain clips Mike or WFAN won't want posted. That's understandable. But some of the prank callers deserve to be heard. Because people need to know how crazy some of these callers really are. There's nothing wrong with that. When Mike says something clever, funny, or something that only he can get away with, that deserves to be heard. If WFAN put these clips on demand on their site or via another platform, the amount of hits they'd get would be higher than what they think it would be. Go ahead, sell ad space on the clips. People would still listen and you'd be able to monetize it.