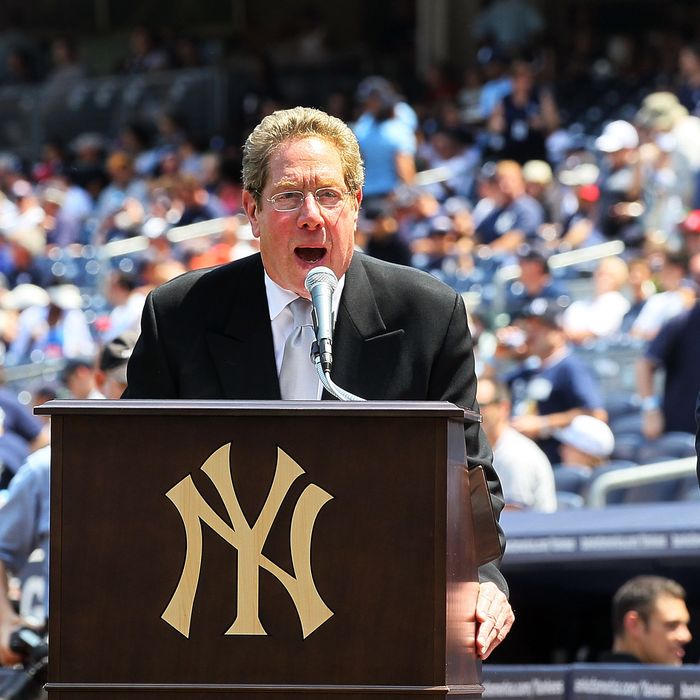 John Sterling.
Photo: Jim McIsaac/Getty Images
A new baseball season means lots of new bizarre home-run calls from Yankees announcer and catchphrase enthusiast John Sterling, who personalizes them for each member of the team. (It was around this time last year we were introduced to Sterling's perfect, insane call for Vernon Wells: "The Bronx is Vernon.") Here, a look at this year's class of new catchphrases, in ascending order of how crazy they are.
Kelly Johnson
Totally dull, but perhaps expected for a guy with a boring name. When Sterling doesn't have much to work with, he relies on alliteration, as he does here. Still, considering Sterling's body of work, a disappointing call.
Dean Anna
The best Sterling calls work on multiple levels: a play on a player's name that could also refer to the act of hitting a home run. This isn't one of those: Making the dean's list has nothing to do with hitting a baseball. Players with actual words in their names give Sterling a lot to work with, but this one was unimaginative and predictable.
Jacoby Ellsbury
Ellsbury hasn't actually hit any home runs for the Yankees yet, but that doesn't mean Sterling hasn't already broken out his call for the center-fielder. On Tuesday night, Ellsbury hit what Sterling believed to be an inside-the-park home run, but was actually ruled fan interference, putting Ellsbury on third. Sterling, never one to wait for an umpire to make a ruling before calling a play, went into homer-call mode anyway, prematurely unveiling his Ellsbury shtick. This particular version of the call is classic Sterling, since, you know, it wasn't actually a home run. (Also: He didn't bury the ball into the stands because it didn't land in the stands.) But as far as catchphrases go, it's standard Sterling fare: a predictable play on a name, with a bit of alliteration thrown in. Congratulations go out to Ellsbury, though, for his induction into the elite club of players who get multiple calls for a single home run.
Carlos Beltran
Sterling likes to play off a player's last name with his home-run calls. He also likes to speak in languages other than English. Here, he does both: "un correazo by Beltran" roughly translates to "a belting by Beltran," which is extraordinarily forced, like all good personalized John Sterling calls.
Brian McCann
Sterling's absolute favorite source of catchphrase material is Broadway. He's an avid fan of musicals, and takes any opportunity he can to sing on the air. These melodic calls, as you might imagine, tend to produce some of the most wonderfully cringe-inducing moments of a Yankees radio broadcast. And so given the Yankee catcher's last name, Sterling naturally chose to insert "McCann" into a Cole Porter–penned song from the musical Can-Can.
Yangervis Solarte
This one will be a first-ballot inductee into the John Sterling Batshit-Crazy Home-Run Call Hall of Fame. It's an all-around hot mess of beautiful catchphrase insanity. "Never nervous Yangervis" doesn't make a lot of sense as a home-run call, but it does rhyme, and that's enough for Sterling. And then there's the singing, in which Sterling inserts Solarte's name into the 1950s Italian song "Volare." A footnote to this one: Before Solarte hit his first home run, WFAN's Joe Beningo suggested to Sterling that he do something to the tune of "Volare," to which Sterling replied that he'd already thought of it. Then they discussed whose version of the song he should sing. Sports radio!