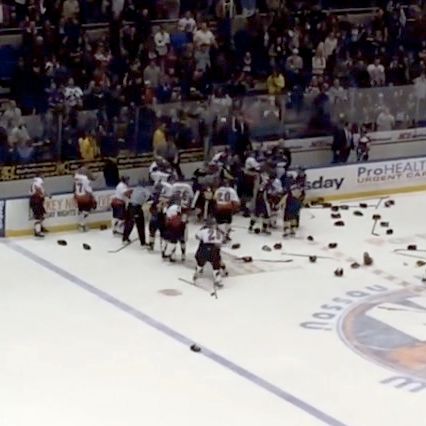 New York City was thoroughly embarrassed over the weekend when the annual Fire Department versus Police Department charity hockey game devolved into an all-out brawl. But honestly, considering the long-standing departmental rivalry and all that testosterone, it's surprising things like this don't happen more often. General machismo aside, they've clashed repeatedly over the years about serious issues, including September 11 and who's in charge at an emergency scene, but also over purely trivial things, like a cat stuck in a tree. It all adds up.
First, some context and analysis on Sunday's melee from the notorious NYPD message board, Thee Rant:
… there is a history of pd' ALWAYS bashing fd either in the street or on the rant here mostly out of jealously.. Land pirate this and that, or complaining that they can theoretically get paid to sleep on duty, etc. sporting events in the past with us and them have also had their fair share of really visceral, unsportsmanlike comments coming from pd players or their fans while fd was just there to play a game and have a good time.. That's the past, just saying.. And it is pretty embarrassing for this story to get picked up nationally, especially since half of ny news coverage about nypd is usually negative to begin with..
Predictably, it's always tense:
Have you ever attended PD-FD events in the past? … I've heard mountains of vulgar abuse hurled towards the PD from the FD fans …
And stereotyping persists:
I always chuckled to myself walking around the arena, passing overweight mothers in flannel shirts and FDNY jerseys cursing in front of their brood, some very visibly drunk, dragging them into bathrooms.Empty beer cans and bottles filled the planters closest to the entrances. Plenty of drunken idiots in FDNY and to be fair NYPD regalia creeping around as well, oblivious or indifferent to the children in their midst during their George Carlin laced tirades.
From where does all this negativity stem? Well …
June 1998
A firefighters' night out gets sloppy, setting off a battle with police, as reported in the Daily News:
The Battle of the Badges turned ugly last night when a bunch of drunken firefighters at a midtown restaurant attacked a cop who came to aid the eatery's besieged bouncer, police sources said.

The officer sustained a broken rib and a sprained back when he was thrown over a wall and down a hill in the fracas at the Bryant Park Grill shortly before 11 p.m., police said.
September 11, 2001
Rescue attempts at the Twin Towers were understandably chaotic. The 9/11 Commission Report took issue with the "longstanding rivalry":
The mayor's [Rudolph W. Giuliani] creation of the Office of Emergency Management and the issuance of his Incident Command Directive were attempts to address the longstanding rivalry between the N.Y.P.D. and the F.D.N.Y. This rivalry has been acknowledged by every witness we have asked about it. Some characterized the more extreme manifestations of the rivalry – fistfights at the scenes of emergencies, for instance – as the actions of "a few knuckleheads." Some described the rivalry as the result of healthy organizational pride and competition. Others told us that the problem has escalated over time and has hampered the ability of the city to respond well in emergency situations.

The N.Y.P.D. and the F.D.N.Y. were two of the pre-eminent emergency response organizations in the United States. But each considered itself operationally autonomous. Each was accustomed to responding independently to emergencies.
At the heart of the issue, chain of command:
During the descent, they reported seeing many firefighters who were resting and did not seem to be in the process of evacuating. They further reported advising these firefighters to evacuate, but said that at times they were not acknowledged. In the opinion of one of the ESU officers, some of these firefighters essentially refused to take orders from cops. At least one firefighter who was in the North Tower has supported that assessment, stating that he was not going to take an evacuation instruction from a cop that morning.
November 2001
With tensions still running high, things only got worse when members of the two departments clashed at ground zero:
On Friday, firefighters and policemen, praised as heroes after the Sept. 11 attack, clashed near ground zero when firemen overturned barricades and punched police officers during the protest by some 1,000 firefighters.

Five policemen were assaulted and 12 firefighters arrested when firefighters broke through police barricades near the site of their finest hour in protests over recovery personnel cuts the mayor said were needed for safety reasons but firefighters said were a matter of money.
"There is no question that emotions are very, very high for all of us," said Mayor Rudy Giuliani. "But the reality is the kind of conduct displayed today is unacceptable. You cannot hit police officers. You can't disobey the law," he said.
June 2003
An attempted burglar stuck in a chimney leads to a face-off, as the FDNY believed it was responding to a rescue, unaware that it was also a crime scene:
A would-be burglar stuck in the chimney of a Queens restaurant yesterday sparked a battle of the badges that Mayor Bloomberg tried to douse by bringing in top cop Ray Kelly and his FDNY counterpart for an emergency meeting.

Gaine entered the eatery on the orders of his captain, fire sources said. Inside, he was stopped by a beefy cop who ordered him to leave, saying it was a crime scene. The pair exchanged some heated words before the cop shoved Gaine, the firefighter said.

"It was one push, and I fell to the ground and twisted my knee," Gaine, supporting himself with crutches, told The Post. "I didn't do anything wrong. We got a call to respond. We thought it was a rescue and that someone was injured."
April 2005
Following the release of the 9/11 report in 2004, Mayor Bloomberg attempts a fix by putting the NYPD in charge of a terrorist attack. Firefighters didn't take it well, Newsday reports:
[Bloomberg]  has drawn up a protocol that - among other things - would put the New York  Police Department in charge at the scene of a chemical or biological attack.  And now, as a reward for his boldness, he has drawn the smoldering wrath of  city firefighters.  Part of their anger no doubt stems from the epic rivalry between the FDNY  and NYPD. This sense of competition is one reason why the line of authority  when the agencies work together has been so dim for so long. Most mayors seem  to have reckoned that it was better to let the NYPD and FDNY work in parallel  universes than to set off a furor by declaring one in charge of the other.
April 2012
Although the changes led to a quiet couple of years, the overlap again became an issue during the delayed rescue of three workers on collapsed scaffolding:
Glenn P. Corbett, an associate professor of fire science at John Jay College of Criminal Justice, was monitoring the radio transmissions of the rescue and said he heard a fire chief expressing confusion as to why the police officer responded over the side of the building — something that Professor Corbett said was considered a "last resort" in such situations.

"This is an ongoing issue that's been around for a long time, and I think the real critical part is that we were told, several years ago, that the citywide incident management system fixed this, and it did not fix it," he said. "This was an issue on 9/11, with separate command posts for the Police and Fire Departments, and there continue to be instances where coordination is missing now."
May 2013
A police officer attempting to rescue a cat in a tree had to himself be rescued:
When firefighters arrived, "they didn't go straight to helping him," [a witness] said. "They all gathered around and laughed at him. They took their time just crowding around."
Luckily, the departments will soon be able to throw sanctioned punches at one another — the annual Battle of the Badges boxing match at Madison Square Garden is only a few short months away. It should be a good one.