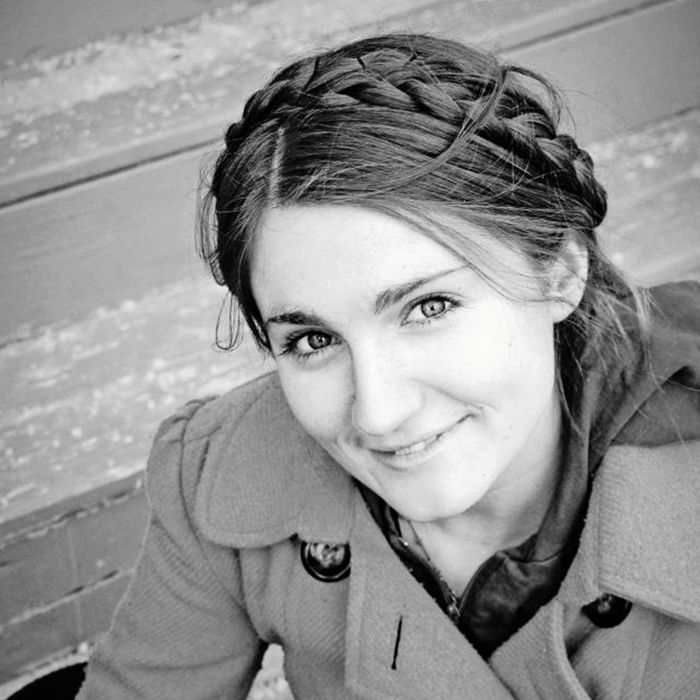 A few years ago, during a stretch of workplace boredom, I added some Ivy League student newspapers to my daily web-reading routine. I did this because, at the time, I was reporting on young Wall Street bankers, and how better to peer inside the psyches of tomorrow's Masters of the Universe than by reading about their college exploits?
Unfortunately, not much turned up. There was the occasional labored op-ed about banks or macroeconomics in the Crimson or Dartmouth or Sun, but otherwise the papers turned up the same old – recaps of concerts and sports games wedged between earnest editorials about climate change and university governance. I thought several times about unfollowing the papers, but never got around to it.
Then Marina Keegan showed up on my screen.
I saw Marina's essay – "Even Artichokes Have Doubts" – shortly after it was published in the Yale Daily News's weekend section in September 2011. Holy shit, I thought. This is great. Marina, a Yale senior, wrote at considerable length about the way her peers at Yale marched inexorably to the financial and consulting sectors after graduation every year – to the tune of 25 percent of the student body. This struck her as not just aggravating, but sad:
What bothers me is this idea of validation, of rationalization. The notion that some of us (regardless of what we tell ourselves) are doing this because we're not sure what else to do and it's easy to apply to and it will pay us decently and it will make us feel like we're still successful. I just haven't met that many people who sound genuinely excited about these jobs. That's super depressing! I don't understand why no one is talking about it.
People don't write about Wall Street this way. When business reporters covered the topic of big-bank recruiting, we did it using statistics and year-over-year comparisons, not normative language meant to prod young people out of complacency. Marina's lament was so good, and so fresh, that I felt it needed a larger audience. I emailed her and asked if she would be willing to write a shorter adaptation of her argument for DealBook, the fief within the Times where I worked.
She did, and the piece went on to become DealBook's best-performing post in many months. Several weeks later, I took the train up to New Haven to meet Marina in person. I was well into my young Wall Street book at this point, and Marina – who was a writer herself, with New Yorker bylines, an internship at The Paris Review, and the ear of her mentor, the famous critic Harold Bloom – gamely offered to show me the work she was doing to create trouble for the finance-recruiting machine. Marina and her friends, many of whom were involved in the Occupy movement, had spent much of that fall and winter trying to stir up controversy around the issue of on-campus recruiting. They held demonstrations outside big-bank information sessions (one sign read "Morgan Stanley is boring!") and tried to talk their peers out of selling their souls to Wall Street.
It was a stormy Wednesday afternoon in New Haven, and Marina and I sat for hours with a small group of her friends in an empty classroom and talked about why Wall Street recruiting was so troubling. Marina was eloquent, passionate, self-aware. She knew she could come off as preachy for telling her peers to abandon J.P. Morgan and McKinsey and take up their real passions instead of laboring over Excel spreadsheets, but she plowed ahead anyway. To her, it was worth losing some friends if the result was a few more of her classmates following their dreams rather than doing what was expected of them. I was a few years older than Marina, but not many, and already she seemed to have the kind of conviction I was struggling to find in my own work.
That was the first time I saw Marina. It was also the last. We kept in touch sporadically throughout the fall, nearly saw each other on one of her New York trips, and emailed back and forth as I wrote her story into my book. Then, in May 2012, a week after her college graduation, I got an email from a mutual friend relaying the unthinkable: Marina had been killed in a car crash on Cape Cod, five days after her graduation from Yale.
I barely knew Marina and met her only once. But it's no stretch to say that she was an inspiration. Before meeting her, I sometimes doubted whether the topic of young Wall Street bankers mattered to anyone other than me. The afternoon spent at Yale, listening to the stories of idealistic juniors and seniors waylaid by the lure of finance jobs, was enough to set me straight, and spur me to finish my manuscript. Partly for this reason, I made her a central character (in the literal sense, too – her scene is dead-center among the pages).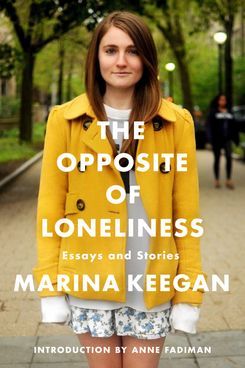 Marina has a book of her own now. Published today by Scribner, it's a posthumous collection of her essays and fiction pieces, mainly written while she was at Yale. Its title, The Opposite of Loneliness, is borrowed from an essay Marina wrote in order to mark her graduation. It's the loveliest piece of writing I've ever seen from someone so young, and wrenching in its irony: "We have these impossibly high standards and we'll probably never live up to our perfect fantasies of our future selves. But I feel like that's okay," she wrote. "We're so young. We're so young. We're twenty-two years old. We have so much time."
It's odd and heartbreaking to read a body of work by someone who died far too soon. It's even odder when you take into account that Marina had no idea she was writing for posterity. She was in her late teens and early 20s when she wrote the material in The Opposite of Loneliness, and the subject matter feels age-appropriate. There are short stories about getting stoned, surprise pregnancies, blossoming romance. There's an essay about her old Toyota Camry, a jalopy inherited from her grandfather. There's one on her gluten allergy.
But nowhere in her work, even while assessing juvenalia, did Marina even remotely seem like she was still using training wheels. Her voice is steady and often very funny, her senses of character and pace are frighteningly good, and the flow of her prose is easy to get carried away by. She wasn't just college-talented; she was talented, period. Several days after reading her book, I found myself turning certain phrases of hers over in my mind, marveling at how she'd found the perfect way to describe a car ride, a song, the weather. If I'd been in her writing workshops at Yale, my jealousy would have surpassed all reason.
Sadness messes with our critical faculties, of course, and I'm sure I could find some nits to pick, if Marina were standing over my shoulder demanding them. (As could she; in the prologue to her book, her former writing professor, Anne Fadiman, describes sitting down with Marina to edit a piece she'd written for class; an hour later, they'd gotten through less than four lines.)
But why quibble? Marina was a writer with a gift. That she never got to expand or edit her first book into something more resembling a finished collection is a tragedy of multiple layers, and nobody's fault but fate. But her family and friends have done a remarkable job of preserving her voice, and the result is one of the most compelling books I've read all year.
In an an essay called "Song for the Special," Marina writes about how jealous she is of people who are deemed important by history, whose legacies will outlive them. She concludes:
Sometime before I die I think I'll find a microphone and climb to the top of a radio tower. I'll take a deep breath and close my eyes because it will start to rain right when I reach the top. Hello, I'll say to outer space, this is my card.
She never got to make that announcement. But she's made another one here. The Opposite of Loneliness wouldn't be nearly enough to capture Marina's full spirit, even at ten times its length and polish, but cruelly, it's all we have.