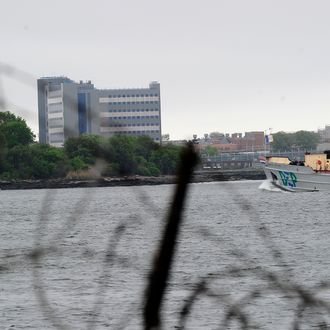 Photo: EMMANUEL DUNAND/2011 AFP
The death of Jerome Murdough, a 56-year-old homeless veteran, in an overheated cell at Rikers Island last month led to a new round of complaints about the treatment of inmates in New York prisons, and particularly the mentally ill. Mayor Bill de Blasio called the incident "shocking and troubling," and said he and incoming Correction Commissioner Joseph Ponte "know we have to make some serious reforms." On Wednesday, New York City's Correction Department responded by demoting Rose Agro, warden of the mental health unit where Murdough died, citing "systemic management problems." He's being transferred to another unit, but his new position won't involve mentally ill inmates.
The department said it doesn't appear that Warden Argo was "directly involved or negligent," but those under him "did not follow basic procedures," the New York Times reports. The jail's mechanics supervisor has also been transferred and will not be allowed to work on projects that involve inmate housing. The temperature in Murdough's cell had climbed to over 100 degrees, and an internal investigation found "overall issues" with the heating system.
The corrections officer on duty when Murdough died, who already served a 20-day suspension, has been suspended for another ten days without pay, which is the maximum allowed by city law. Inmates on the mental observation unit are supposed to be checked ever 15 minutes, but no one looked in on Murdough for four hours.
The department said it is still investigating the incident, and may take further disciplinary measures. The case is also being reviewed by the Bronx district attorney.