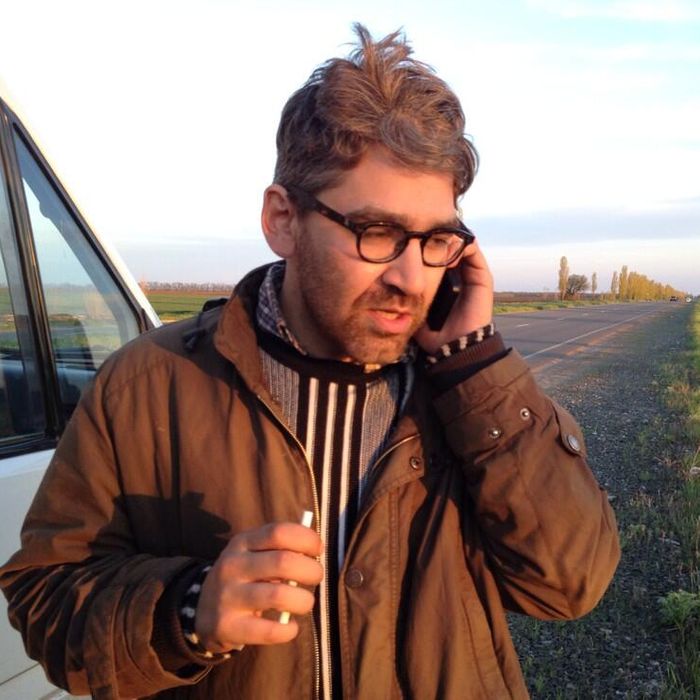 Simon Ostrovsky, after his release.
Photo: J-Francois Belanger
The Vice News journalist detained by pro-Russian forces in Ukraine since late on Monday was released on Thursday, the company confirmed after reports and photos surfaced on Twitter. "VICE News is delighted to confirm that our colleague and friend Simon Ostrovsky has been safely released and is in good health," said a statement. "We would like to thank everyone for their support during this difficult time. Out of respect for Simon and his family's privacy, we have no further statement at this time."
Ostrovsky, whose more than two dozen popular video dispatches from the region exemplify Vice's new hard-news style, has been covering the ongoing crisis in the country since March 3. He's spent time — and clashed with militias — in Crimea, Kiev, Donetsk, and more cities across Ukraine.
The Russian group claiming credit for his capture said Ostrovsky was "suspected of bad activities" and "not reporting in a correct way."
While in custody, Ostrovsky said he was beaten, blindfolded, and tied up. "After a day and a half they took off the blindfold and untied my hands, then they treated me normally," he told AFP. "They had my picture, they were looking for me." (Reports of journalist kidnappings in the region have increased in recent weeks.)
On the less bleak side: