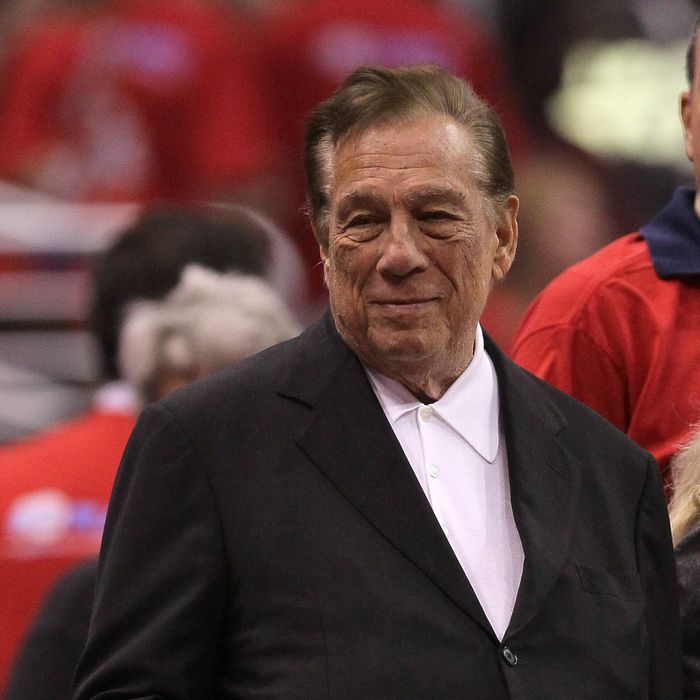 Photo: Stephen Dunn/2012 Getty Images
Assuming an audio recording obtained and posted by TMZ is real, it is safe to conclude that Los Angeles Clippers owner Donald Sterling is a gross racist: The tape is of an April 9 argument between Sterling and his girlfriend, V. Stiviano, who had apparently angered the octogenarian charmer by posting a photo of Magic Johnson and herself on Instagram. "It bothers me a lot that you want to broadcast that you're associating with black people. Do you have to?" says Sterling to Stiviano, who just happens to be black and Mexican. "You can sleep with [black people]," he explains. "You can bring them in, you can do whatever you want. The little I ask you is not to promote it on that … and not to bring them to my games."
Other highlights from the recording include Sterling advising Stiviano that "In your lousy fucking Instagrams, you don't have to have yourself with, walking with black people" and requesting that she "not bring [Johnson] to my games." That last one shouldn't be too difficult, as you can see from Johnson's Saturday tweets reacting to Sterling's comments:
And here's Baron Davis, a former Clipper who has been open about his difficulties with Sterling in the past:
And they're not the only NBA-affiliated people bothered by the recording. League spokesman Mike Bass released a statement saying, "We are in the process of conducting a full investigation into the audio recording obtained by TMZ. The remarks heard on the recording are disturbing and offensive, but at this time we have no further information."
Meanwhile, the Clippers, who have yet to comment as a team, have held a meeting to discuss how to respond to the situation, the Los Angeles Daily News reports. Clippers point guard and National Basketball Players Association president Chris Paul did say, "On behalf of the National Basketball Players Association, this is a very serious issue which we will address aggressively. We have asked Mayor Kevin Johnson to expand his responsibilities with the NBPA, to determine our response and our next steps. As players, we owe it to our teams and our fans to keep our focus on our game, the playoffs, and a drive to the Finals."
This is not the first time that the public has heard about Sterling, who is a real-estate mogul and the NBA's oldest living team owner, being a gross racist: In 2006, the Justice Department sued him over charges of housing discrimination in L.A.'s Koreatown. And, in 2009, he agreed to pay $2.73 million to settle allegations that he refused to rent apartments to Hispanic and black people. Former manager Elgin Baylor also unsuccessfully sued Sterling for wrongful termination, alleging that he was discriminated against based on his age and race.
So far, Sterling hasn't said anything about the recording. Maybe he just wants to run his thoughts by his team's many black players first.