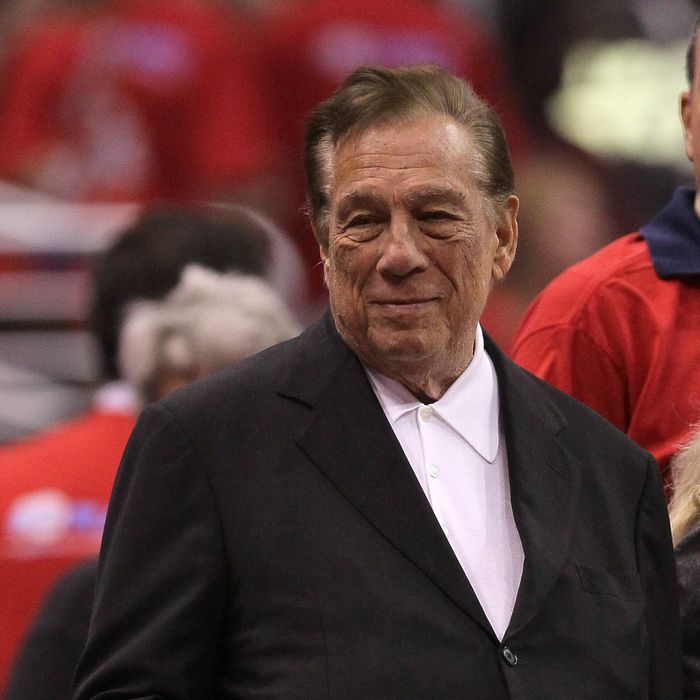 Photo: Stephen Dunn/2012 Getty Images
While we don't know exactly happened between L.A. Clippers owner Donald Sterling and his presumably now-ex-girlfriend V. Stiviano that led to the release of his racist rantings, it can be safely assumed that it was ugly. It could have also had something to do with a lawsuit filed by Sterling's wife, Rochelle, on March 7, in California. Sterling's partner for more than half a century, Rochelle claims that Stiviano "engages in conduct designed to target, befriend, seduce, and then entice, cajole, borrow from, cheat, and/or receive as gifts transfers of wealth from wealthy older men whom she targets for such purpose." Donald, she alleges, was a particularly big fish.
As reported, Sterling allegedly met Stiviano in Miami during the 2010 Super Bowl and has since given her a $1.8 million apartment, two Bentleys, a Ferrari, a Range Rover, and piles of cash, "without the knowledge, consent or authorization of his wife," the suit claims.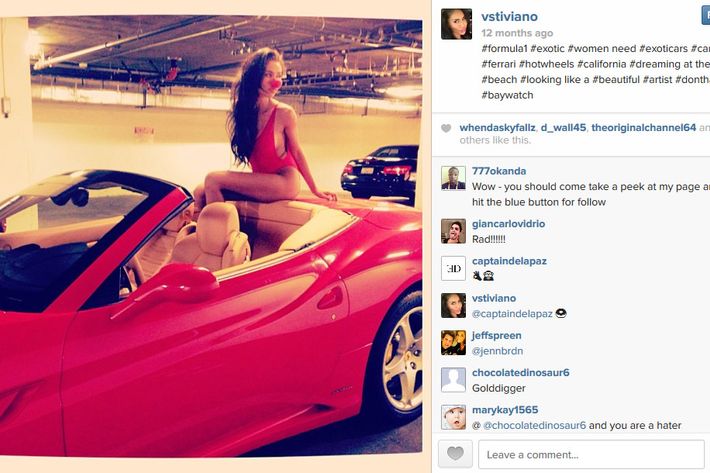 Stiviano's "feminine wiles … overpowered the iron will of [Sterling] who is well known as one of the most shrewd businessmen in the world," Rochelle claims. (TMZ, meanwhile, has a photo of the Sterlings together with V. from 2011.)
The full lawsuit can be seen here and is embedded below.
But the response from Stiviano's attorney Mac Nehoray, also readable in full below, is truly brutal:
This is an action brought by a very angry wife whose husband is a highly public figure and who is well known to be "keeping women" other than his wife and who has done so for very many years with a big toothy grin brandishing his sexual prowess in the faces of the Paparazzi and caring less what anyone else thought, the least of which, his own wife.

Donald T. Sterling, curiously not a party in this action, has flaunted that grotesque lifestyle in front of and in his wife's face for nearly their entire marriage of 50 years. The person least fooled and 0 least affected and least "robbed of her due" is Mrs. Rochelle H. Sterling.

At a minimum, she has been complicit for over 50 years and, here, particularly, has "looked the other way" if not put hands over her mouth, covered her eyes and attempted to cover her ears. Further, this not the "first rodeo" as the expression goes.
He's right, and it's a matter of public record: In a 2003 sworn deposition (Sterling was suing another former paramore), the Clippers owner said the relationship with the much younger woman "was purely sex for money, money for sex, sex for money, money for sex … I was paying her. It was in exchange for sex."
And much in the way a relentless racist could own and profit from a majority-black team in a majority-black league — and date a half-black woman, whom he said could have sex with black men, just not post them on her Instagram — Sterling put forth his warped worldview as it applies to subservient women. "I knew from the day she came in that she was a total freak and a piece of trash," he said at the time of the woman he'd been sleeping with and paying off. "How did I know? The girl immediately told me she lived eight months with Mike Tyson."
But the arrangement worked: "[S]he would say anything I asked her to say, and I would say anything she asked me to say," said Sterling. "But we knew what the friendship was."