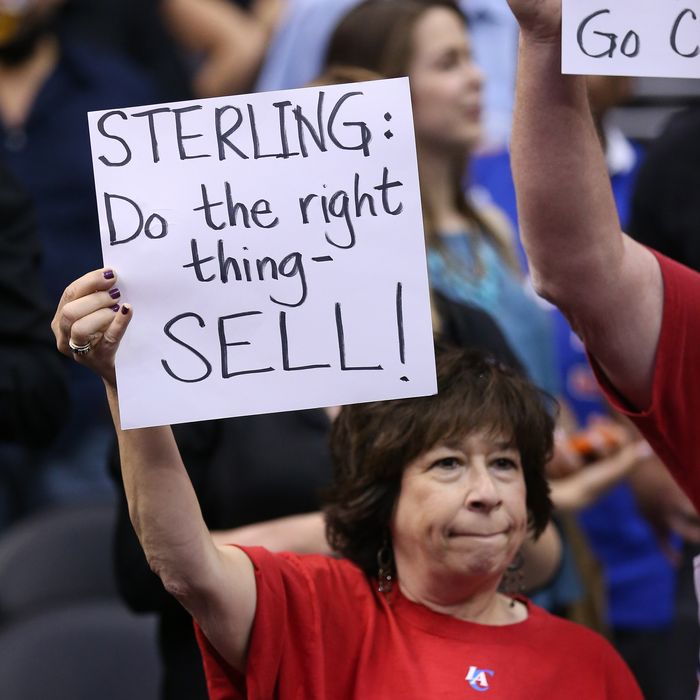 A Clippers fan at Tuesday's game.
Photo: Stephen Dunn/Getty Images
Presumably, most Americans are now well versed in Los Angeles Clippers owner Donald Sterling's bizarre and shockingly racist theories about publicly associating with minorities (if not, here's the extended recording and a guide to the alleged mistress behind it). On Tuesday, NBA Commissioner Adam Silver responded with a surprisingly bold move: Sterling was banned from the NBA for life and fined $2.5 million. Plus, Silver said the NBA will try to force Sterling to sell the team. Shortly before Silver's announcement, Sterling told Fox News the team is "not for sale," so his dispute with the NBA is likely to drag on for some time. Here's a primer on the fallout, from the legality of the NBA's decision, to who stands to profit from all this (unfortunately, it's Sterling).
Is the NBA's decision legal?
The consensus among experts is that the ban and fine are definitely legal, but the league's ability to force Sterling to sell is questionable. The NBA's constitution, which is agreed to by all 30 team owners, gives Silver the power to punish owners for "conduct prejudicial or detrimental" to the league, and specifically mentions fines and suspensions. Considering that Sterling's remarks were condemned by President Obama and there were talks of players boycotting games, they certainly meet that criteria. While many Twitter users complained that Sterling's First Amendment rights had been violated, the Constitution only guarantees that the federal government will not infringe on Sterling's right to speak freely, not a private group he does business with.
In order to force Sterling to sell the team, Silver would have to secure the approval of three fourths of the league's owners. The NBA's constitution says owners can be forced out for financial issues, such as rigging games or failing to make payments. According to the Washington Post, the only provision that might fit Sterling's situation says that the NBA can force a sale if the owner fails to fulfill "contractual obligations … in such a way as to affect the Association or its Members adversely."
It's possible that other owners will be hesitant to oust Sterling for moral reasons, since it would set a precedent for taking their teams too. While Dallas Mavericks owner Mark Cuban told he AP that Sterling's comments are "abhorrent" and there's no place for racism in the NBA, he also said, "I think you've got to be very, very careful when you start making blanket statements about what people say and think, as opposed to what they do. It's a very, very slippery slope." Silver said on Tuesday, "I spoke to several owners, and I have their full support."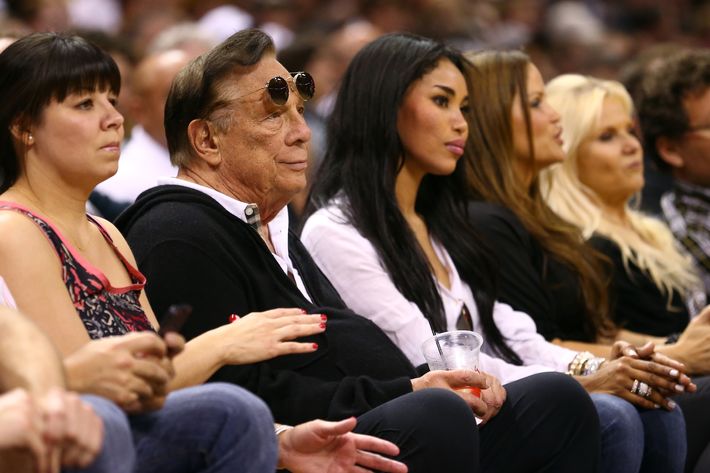 What will Sterling do?
He's known for being very litigious, so he'll probably sue. On the other hand, Clippers players and coaches have made it clear that they won't work with him. "He may be a belligerent S.O.B., but he's not insane," Gary R. Roberts, a professor of sports law at Indiana University, told the Post. "I don't think that the other league owners are going to be able legally to kick him out. But they're not going to have to. This guy doesn't want to own a business that will be bankrupt in short order."
Has this ever happened before?
If it sticks, Sterling's punishment might wind up being the most severe, but he's not the first owner of a professional sports team to be punished by their league. Per the New York Times:
George Steinbrenner, the Yankees' principal owner, was given a lifetime ban from the day-to-day operations of his team in 1990 for conspiring with a gambler in an effort to defame Dave Winfield, a Yankees player. But Mr. Steinbrenner was not forced to relinquish his ownership of the team, and he was reinstated three years later. In 1993, Major League Baseball suspended the Cincinnati Reds owner Marge Schott from the day-to-day operation of the team for one year and fined her $25,000 for using racial slurs toward employees and making anti-Semitic remarks.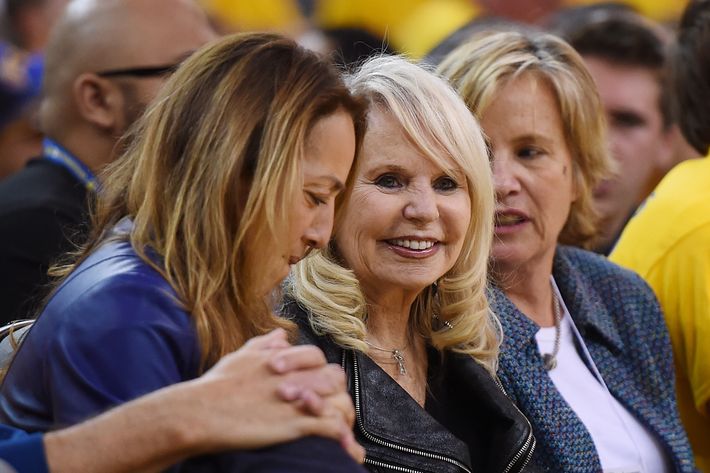 Could Sterling turn the Clippers over to his wife?
Theoretically, but it's unlikely. Silver said his decision applies only to Donald Sterling, not members of his family. Under California's community property law, his estranged wife Shelly Sterling could be considered a joint owner, and the Daily News reports that there were rumors that she would assume control of the team. However, sports law expert and Sports Illustrated columnist Michael McCann writes, "There is virtually no chance the NBA would approve Mrs. Sterling in this scenario as it would be a clear attempt to evade the NBA's discipline of her husband."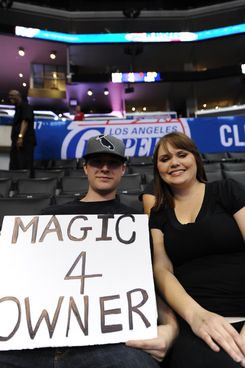 Who wants to buy the Clippers?
Magic Johnson, the man whose presence in an Instagram photo enraged Sterling, has been floated as a potential buyer (according to Rush Limbaugh's latest conspiracy theory, Magic orchestrated the whole controversy). While Johnson denied that he's interested, Silver said, "Magic Johnson knows he's always welcome as an owner in this league. He's been a part owner in the past of the Los Angeles Lakers and is always welcome and a close friend of the NBA family."
Media mogul David Geffen tried to buy the Clippers for $600 million several years ago, and according to The Wall Street Journal, he's still interested. Boxer Floyd Mayweather Jr., Rick Ross, Sean Combs (a.k.a. Diddy), and a slew of local billionaires are also in the market for their own basketball team.
How does this affect Sterling financially?
He'll probably make a massive amount of money. The $2.5 million fine, which is the maximum permitted by the league's constitution, means little to Sterling, who's reportedly worth about $1.9 billion. Sterling bought the team for $12.5 million in 1981, and Forbes estimates that it's now worth $575 million. Since the team's popularity has increased in the past few years and financial interest in professional sports franchises is at an all-time high, Sterling will probably make far more – perhaps even $1 billion – if he sells.
What does this mean for fans?
While Sterling's next move is unclear, Clippers fans were clearly pleased with the NBA's ruling at Tuesday night's game – and the team's 113-103 playoff win against the Warriors. The Staples Center was sold out, and many fans wore black shirts and carried signs with anti-Sterling slogans like "Clippers new owner wanted! Racists need not apply!" The players were greeted with a standing ovation before pregame warmups, as seen in the video below, and fans chanted "We are one!" throughout the night.