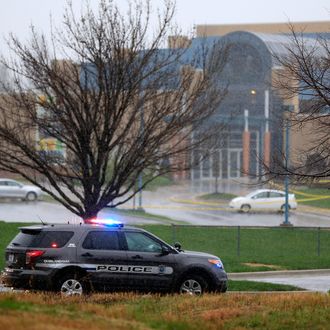 The Jewish Community Center in Overland Park.
Photo: Jamie Squire/2014 Getty Images
The 73-year-old man who allegedly shot and killed three people outside Jewish facilities in Overland Park, Kansas has been identified as Frazier Glenn Cross, a well-known white supremacist who founded the Carolina Knights of the Ku Klux Klan. The first two victims were Dr. William Lewis Corporon and his 14-year-old grandson, Reat Griffin Underwood, who were shot around 1 p.m. at the Jewish Community Center of Greater Kansas City, according to their family. Both were Christian. The shooter then drove several blocks to a Jewish retirement community, Village Shalom, and asked a woman or girl outside if she was Jewish. When she said yes, he shot her. The gunman fired at two other people who were not injured, and was arrested in the parking lot of a nearby elementary school. Witnesses say he was shouting "Heil Hitler" and other neo-Nazi slogans during his arrest.
After an official at the jail leaked Cross's name, the Southern Poverty Law Center, which tracks hate groups, revealed it has a long history with Cross. They confirmed his arrest in a phone call with his wife, and said he's better known as Frazier Glenn Miller. The Army veteran and retired truck driver ran the Carolina Klan in the '80s until the SPLC sued him "for operating an illegal paramilitary organization and using intimidation tactics against African Americans."
Later he founded another white supremacist group, the White Patriot Party, violating the terms of his settlement in the SPLC lawsuit. In 1986, he was found in criminal contempt and served six months in prison. The next year he was the subject of a nationwide manhunt after he violated the terms of his bond. Miller was found in an Ozark mobile home filled with hand grenades and automatic weapons, and served three years for weapons charges and plotting the assassination of SPLC founder Morris Dees.
In 2006, Miller ran a write-in campaign for Congress on a white power platform. In 2010 he ran for the Senate in Missouri with ads urging whites to "take the country back" from the Jews and "mud people." According to the SPLC's website, "Miller is a raging anti-Semite who has posted more than 12,000 times on Vanguard News Network (VNN), whose slogan is 'No Jews, Just Right.' "
Police say it appears Miller didn't know any of the victims. He's being held on multiple charges, including premeditated first-degree murder.