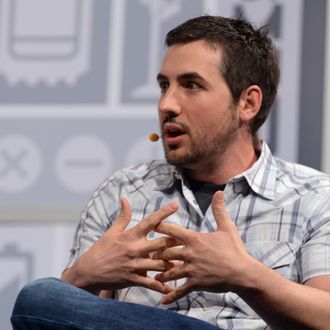 Kevin Rose.
Photo: Jesse Knish/Getty Images
Google Ventures partner and Digg founder Kevin Rose (for whom I am often confused at tech parties and on Twitter, thanks to our comically similar names) had a less relaxing weekend than most. On Sunday, Rose's San Francisco house became the site of a protest by a group called Counterforce, which held up signs and passed out leaflets calling Rose a "leech" and a "parasite."
The protesters apparently took issue with Rose's venture capital career, which they said "directs the flow of capital from Google into the tech startup bubble that is destroying San Francisco." Complaints about tech money have become a familiar refrain in San Francisco – a city whose social divides are clearly being magnified by the recent influx of capital and companies – but in this case, the target is oddly chosen.
Venture capitalists like Rose are, of course, a crucial part of the start-up ecosystem. Without them, new start-ups would struggle to get off the ground and older start-ups would have a harder time growing into mature companies. They're also the biggest link between Main Street and Silicon Valley, since the organizations who provide money to venture capital firms are often pension and retirement funds.
But Rose and Google Ventures are hardly the poster children for tech gentrification in San Francisco. Google Ventures, the VC offshoot of Google, does plenty of late-stage investments – like the $250 million it plowed into Uber or the $80 million round it led for Nest – and in those cases, they're not so much fostering new start-ups as giving more money to ones that are already up and running. Some Google Ventures portfolio companies are located in Silicon Valley or San Francisco; many are not. Rose's portfolio isn't particularly offensive, either – it's mostly consumer start-ups you've never heard of, with the odd Blue Bottle Coffee or Bitcoin marketplace.
The protesters' beef with Rose seems to extend in many directions. They take Rose's investments in Foursquare and other location-based services as proof that he "invests in startups that perpetuate the process of alienation under the guise of social technology," and his work with Oink, a failed start-up he launched in 2001 that allowed users to rate items at places of business, as enabling a world in which "people can now drive down business in establishments that no longer serve their luxurious needs by mobbing them with unfavorable reviews and rankings."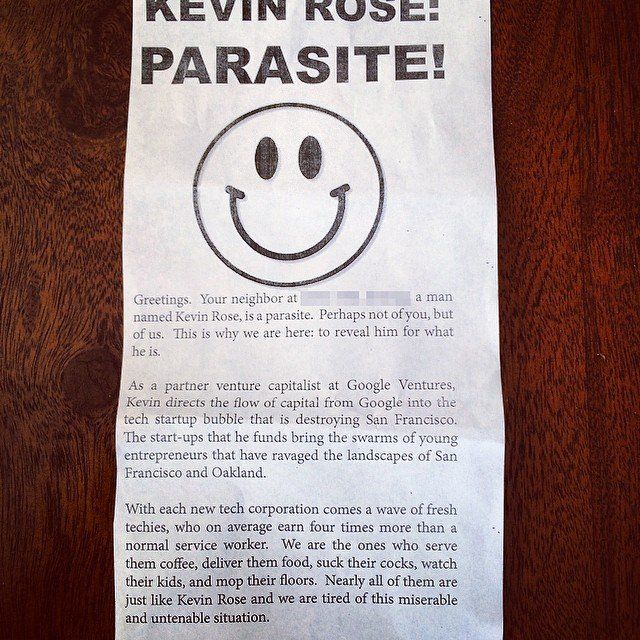 Their proposed solution? New, anarchist societies.
We demand that Google give three billion dollars to an anarchist organization of our choosing. This money will then be used to create autonomous, anti-capitalist, and anti-racist communities throughout the Bay Area and Northern California. In these communities, whether in San Francisco or in the woods, no one will ever have to pay rent and housing will be free. With this three billion from Google, we will solve the housing crisis in the Bay Area and prove to the world that an anarchist world is not only possible but in fact irrepressible.

The Counterforce protests are a little easier to understand if you're familiar with the traditions of left-wing protest theater, in which targets are chosen with an eye for spectacle and exact grievances don't always have to make sense. But they're still very odd. At least one bystander wonders if they're a false flag. But the grievances against Rose are tonally and thematically similar to the ones that were leveled at another Google executive, Anthony Levandowski, in a Counterforce protest outside his home earlier this year.

Regardless, Rose has taken the protest rather well, tweeting afterward that he agrees with the group on the need for affordable housing in San Francisco and keeping the city's diversity intact despite the influx of tech money. If the tech backlash is getting more personal – and I believe it is, as the mainstream protesters are drawn into urban planning hearings and anti-eviction task forces and what's left on the street is the performative fringe – then it looks like the targets are prepared.