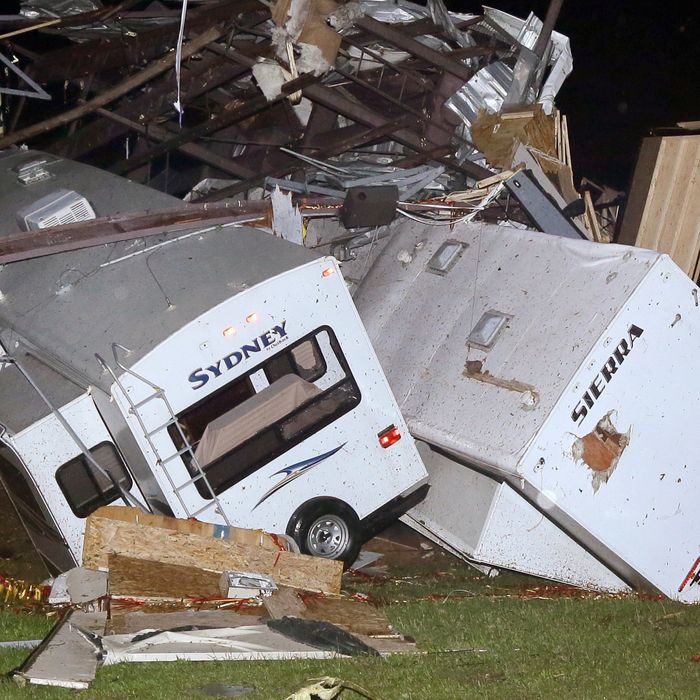 Travel trailers and motor homes are piled on top of each other at Mayflower RV in Mayflower, Ark., Sunday, April 27, 2014.
Photo: Danny Johnston
This year, the United States saw the safest start to tornado season since 1915, but that ended on Sunday when tornadoes tore through the Midwest and South. The weather turned deadly around 5:30 p.m. when a tornado hit the tiny town of Quapaw, Oklahoma, killing one person and severely damaging several homes. The storm then moved into Baxter Springs, Kansas, injuring several people and demolishing nearly 100 buildings. Finally, tornadoes ripped through Little Rock's suburbs. The AP reports the storm was on the ground off and on for nearly 80 miles, wiping out whole neighborhoods and killing at least 11 people.
"Tonight, I walked around what was only hours earlier a thriving neighborhood that is now gone. An entire neighborhood of 50 or so homes has been destroyed - many homes are completely gone except the foundation," U.S. Representative Tim Griffin told Reuters. "And there is more devastation like this in other parts of Arkansas."
Rescue workers have been digging through the rubble throughout the night, searching for survivors. In many areas, the storms tore up trees and brought down power lines, making their job even more difficult.
Storm-chaser Brian Emfinger shot video of the devastation near Mayflower, Arkansas using a drone:
Here are some other shots of the storm and its aftermath:
It appears that the violent weather isn't over yet. The National Weather Service says there may be several "intense tornadoes" in parts of Arkansas, Missouri, Mississippi, and Tennessee on Monday.