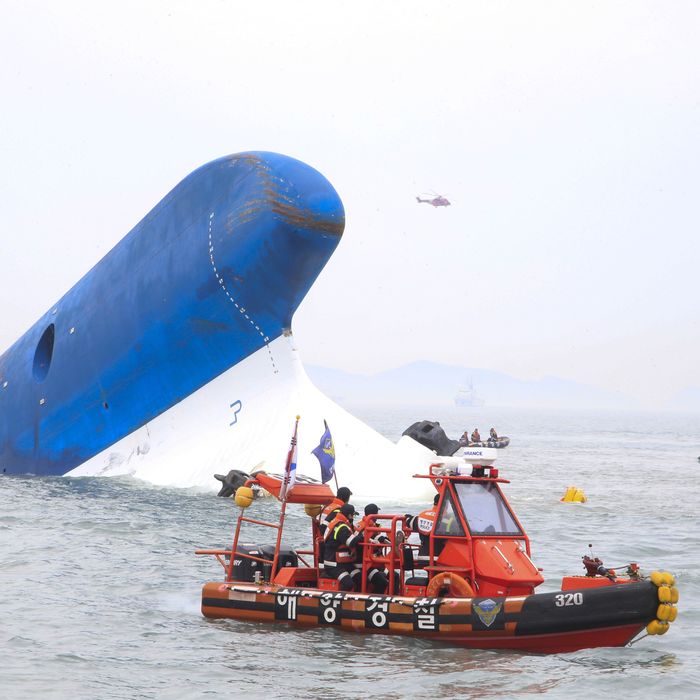 Photo: Park Young-Chul-Donga Daily via Getty Images
On Wednesday morning, a ferry carrying 432 people — most of them high school kids on their way to a field trip on the island of Jeju — began sinking off the the coast of South Korea. The Associated Press reports that 87 boats and 18 aircraft responded to the ship's calls for help, but rescuers were only able to get to 175 passengers before everything but the bow was underwater. Six people have been confirmed dead, which means that 283 remain unaccounted for. While divers were still searching the cold, muddy water for survivors on Wednesday evening, the chances of finding any of the missing alive don't look good, though South Korean President Park Geun-hye said in a briefing that they would continue to do their best "to rescue even one passenger." 
Family members of those onboard the ferry gathered in the port town of Jindo on to pick up those who escaped and await news of those who didn't. Passengers reported that the disaster began when the ship began listing during breakfast. That was followed by a loud bang. "The internal broadcast advised us to remain in our seats," a 57-year-old man identified only as Yoo told the semi-official news agency Yonhap. He said he eventually decided to ignore the order and go outside with his life jacket on. "I wonder why they didn't tell us to evacuate immediately," he added.
Several passengers told South Korean news station YTN that they believed many people had been trapped in the game room and cafeteria, which were located below the main decks. Lim Hyung Min, one of the 325 Danwon High School pupils on the ship, recalled a chaotic scene, with shipping containers knocked off balance and "students falling over and crashing into things and bleeding." So far, only 75 of the teenagers have been located. 
Heartbreakingly, some of the kids stuck inside were able to text their parents. CNN reports that one boy wrote his mother to say, "I love you." She responded, "I love you, too. Why are you saying that?" but did not hear back. A girl sent a message saying, "Dad, I can't get out, the ship is slanted too much." When her father urged her to get out, she replied, "I can't get out, there are no children in the corridors. I can't get out."
South Korean officials have so far declined to talk about what might have caused the ferry to sink, as they say they are still focused on the rescue operation.