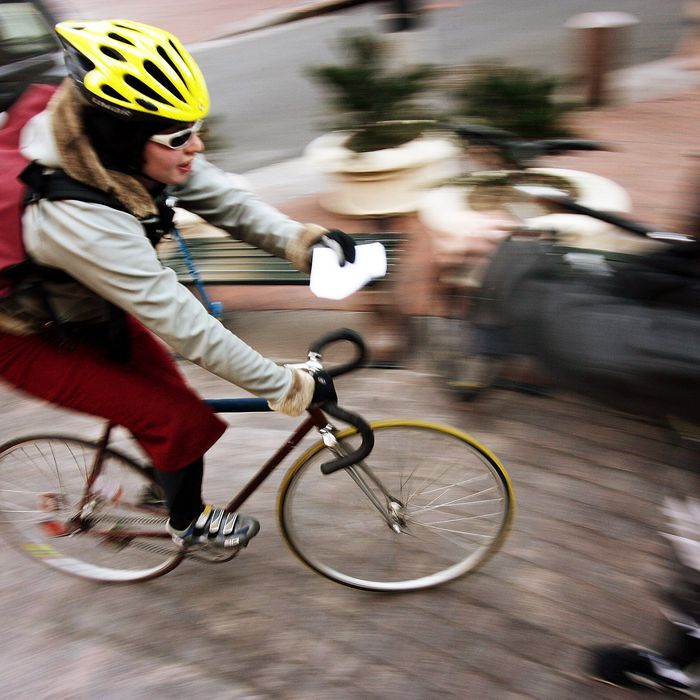 A bicycle messenger rides during Monster Track 2006 March 4, 2006 in New York City.
Photo: Scott Gries/Getty Images
I've long had a hunch that Uber, the ubiquitous car-on-demand service, is gearing up for something much bigger than just taking people from point A to point B. The company clearly wants to use its car-service foothold to expand into a large, multi-armed transportation hub for cities — a "digital mesh," in one of its investor's words, that can take anything anywhere, immediately, with a few taps of an app.
Tomorrow, Uber is tipping its hand by launching an experimental line of Uber couriers in Manhattan who will deliver packages on foot or by bike for as little as $15. It's a trial run that is clearly meant to show that while Uber is known for transporting people, it can transport things, too.
As of tomorrow, Uber will offer a service called "UberRUSH" alongside the existing services in its app. Press it, and a courier with an Uber messenger bag will show up to your door, whisk your package away, deliver it to its recipient, and snap a photo of the recipient to help prevent deliveries to the wrong person. The service will be offered only in Manhattan, with five "zones" below 110th Street that determine how much you pay. Deliveries within a zone are $15, with a $5 additional fee for every zone border you cross, up to a maximum of $30. (And no, there is no surge pricing for packages.) Packages are insured up to $250 apiece, and while there is no strict weight limit, couriers must be able to carry your package comfortably, so furniture deliveries will probably have to wait.
Before you send an Uber messenger to pick up your dry cleaning, keep in mind — as of now, UberRUSH couriers aren't allowed to pay for anything. But the service could still be useful if you need to shuttle something across town in a hurry.
I spoke with Uber's New York general manager, Josh Mohrer, who said that the inspiration for UberRUSH came from Uber customers who were using the company's cars to deliver goods instead of people — hailing an Uber car to bring a forgotten passport to the airport, say, or send keys to a roommate who is locked out.
"People use Ubers this way already," Mohrer said. "We think the courier market, no one is really nailing it yet."
Uber is starting small here — the courier industry is relatively small in New York, and doesn't exist in many other cities — but it's probably best to think of UberRUSH as a pilot program to see if non-human deliveries will really work. If it does, it's possible that the company will expand into same-day retail deliveries or other cargo services. Uber has been experimenting with special delivery types — ice cream on hot days, roses on Valentine's Day — on the theory that once you have the grid in place, it's relatively easy to add new services to it.
There are some safety concerns with UberRUSH. A $250 insurance maximum will keep people from shipping anything expensive using an Uber messenger, and while the company is using professional couriers for the pilot roll-out, Mohrer says it may eventually allow trained laypeople to deliver packages, à la Taskrabbit.
But as Uber tries to expand beyond cars, proving it can handle packages as well as people will be an important test. And if Uber can get the test-phase kinks worked out, it will be on its way to its future as a digital infrastructure grid.
"This is an experiment with no set end date," Mohrer told me. "We'll know relatively quickly if there's a market for this."