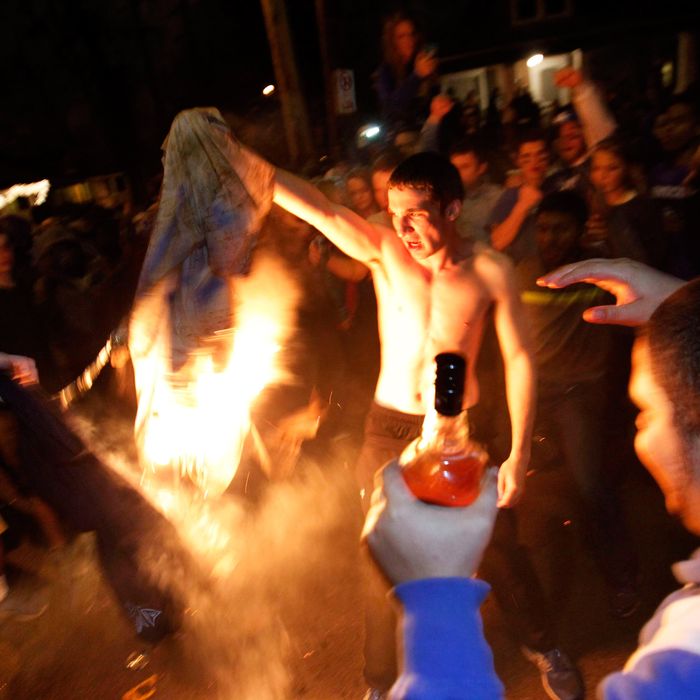 Guess the school.
Photo: John Sommers II/Reuters
Win or lose, college kids only know how to react to sports in three ways: drink more, scream louder, and burn stuff. Following the Connecticut Huskies'$2 60-54 victory over the Kentucky Wildcats in the NCAA men's basketball championship, students flooded the street in both Storrs and Lexington. Based on the spectacular photos, it's impossible to tell which riot was a celebratory one.
In Kentucky, at least 17 couches were reported burned and 18 people suffered minor injuries. At least seven were arrested, and probably called their ashamed parents crying this morning.
"Last night was absolutely insane!" wrote one student on Instagram. "Between being maced in the face shot by paintballs hit with a baton caught on fire and saving a girl from a flying bottle all while tear gas is dropped at your feet it was wild to say the least. Two lessons learned. #1 BBN knows how to celebrate! #2 don't get caught between a massive brawl you will get all of the above."
To the victors, on the other hand, go the flipped cars and broken windows:
At least 30 "jubilant" fans were arrested. "A lot of it was alcohol-related," said a UConn spokesperson. "There was breech of peace, destruction of property, and we had a fireworks charge."
This one is hashtagged #theschoolistrashed:
This bro is college incarnate:
RA Derek saw it coming.