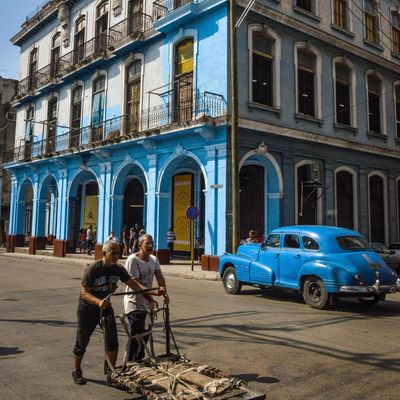 Photo: ADALBERTO ROQUE/AFP/Getty Images
Between 2009 and 2012, the United States Agency for International Development created and ran ZunZuneo, a text-message-based social media platform intended to encourage an uprising against the government in Cuba, where there is virtually no internet access, the Associated Press reports. Described as a "bare-bones" version of Twitter, the plan involved attracting a user base with innocuous "news messages on soccer, music, and hurricane updates." Once a couple hundred thousand Cubans had signed up, "operators" would begin sending political messages in the hopes of triggering "a Cuban Spring," where citizens would "renegotiate the balance of power between the state and society." Obviously, that didn't happen, but ZunZuneo did have 40,000 users by the time it shut down. 
The origins of the network, which was funded with American money earmarked for a project in Pakistan, were kept secret. From the AP: "There will be absolutely no mention of United States government involvement," according to a 2010 memo from Mobile Accord, one of the project's contractors. "This is absolutely crucial for the long-term success of the service and to ensure the success of the Mission." This was accomplished by having the Denver-based Mobile Accord and another contractor, the D.C.-based Creative Associates International, run ZunZuneo through front companies based in Spain and the Cayman Islands while other employees worked out of several cities in Central America. A website, complete with "mock banner ads," was set up to help ZunZuneo look more like a real business. 
An unnamed "key contact" at Cubacel, the state-run cell-phone company, gave a list of hundreds of thousands of Cuban numbers to a Cuban engineer living in Spain, who passed them along to USAID and Creative Associates International. The first attempt to attract users happened in September 2009, around the time of a Colombian rock star's concert in Havana, which turned out to be the country's largest public gathering since a 1998 visit from the Pope. A Chile-based Cuban "satirical artist" was hired to write "mildly political and comical" and "pointed" comments polling Cubans on their thoughts about the show. (The comedian was not aware of ZunZuneo's connection to the United States at the time.) The messages, which were then sent out to half a million people, received 100,000 responses. From there, Mobile Accord began building a database of Cubans who might be interested in the service, which they began marketing in February 2010. 
Whether or not this is legal is "unclear." Per the AP: "U.S. law requires that any covert action by a federal agency must have a presidential authorization. Officials at USAID would not say who had approved the program or whether the White House was aware of it." However, a USAID spokesman told the AP that their actions had been reviewed by Congress and had been found to be "consistent" with United States law: 
"USAID is a development agency, not an intelligence agency, and we work all over the world to help people exercise their fundamental rights and freedoms, and give them access to tools to improve their lives and connect with the outside world," he said.

"In the implementation," he added, "has the government taken steps to be discreet in non-permissive environments? Of course. That's how you protect the practitioners and the public. In hostile environments, we often take steps to protect the partners we're working with on the ground. This is not unique to Cuba."
By March 2011, ZunZuneo had 40,000 subscribers. However, by mid-2012, it had stopped working. According to Cuban students who spoke to the AP, intelligence officials said the program had been "blacklisted." USAID, meanwhile, says that ZunZuneo "ended when the money ran out." Unsurprisingly, the Cuban government would not comment.