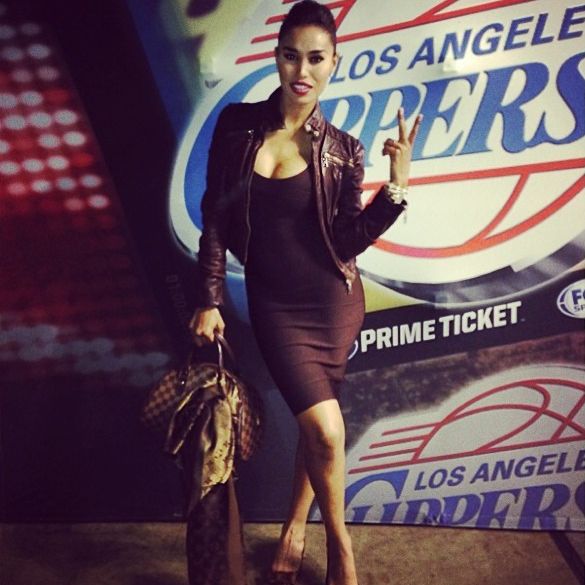 Photo: V. Stiviano/Instagram
The hero in the Donald Sterling story, insofar as there is one, is the woman best known by a single letter, whose audio recordings of his unbelievably racist rantings took Sterling's history of discrimination from an inconvenient fact well known in sports circles to the biggest story in the country. V. Stiviano, identified far and wide as the girlfriend of the married 80-year-old, maintains that she did not personally leak the damning tapes to TMZ, but she definitely made them — up to 100 hours' worth, according to some sources — and just so happens to be getting sued by Sterling's wife at the moment.
A combination of court papers and Instagram tell us just about all we need to know about Stiviano, whom the other Donald called the "girlfriend from hell," a true honor from the mouth of Trump. Here's what we've got to work with so far: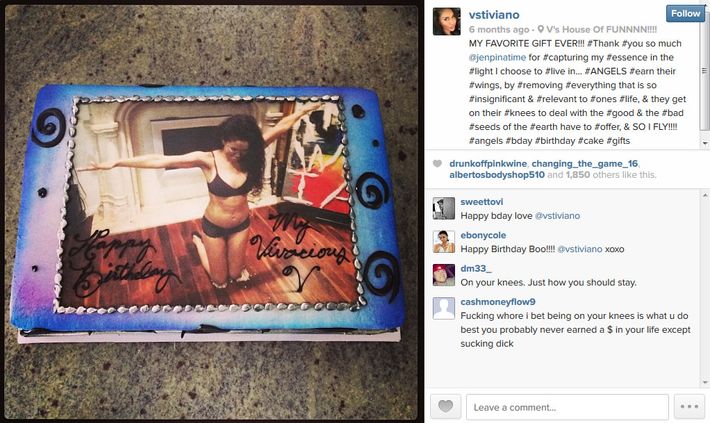 Yes, her name is really V., but it wasn't always
Stiviano is reportedly 31 years old and was born María Vanessa Perez, according to the lawsuit filed by Rochelle Sterling (more on that later). According to the L.A. Times, Stiviano has also gone by Monica Gallegos, Vanessa Perez, and Maria Valdez.
In 2010, she legally changed her name because she said she had not been "fully accepted because of my race." (On the TMZ tapes, Stiviano identifies as black and Mexican. "You're supposed to be a delicate white or a delicate Latina girl," says the voice that is almost definitely Sterling. "And you're in love with me. And I'm black and Mexican. Whether you like it or not," she replies.)
She doesn't like labels, except "archivist" (and "Artist, Lover, Writer, Chef, Poet, Stylist, Philanthropist")
According to her attorney, Mac Nehoray, "Neither Ms. Stiviano, nor this office has ever alleged that Ms. Stiviano is, or ever was, Mr. Sterling's girlfriend." Instead, he wrote in a statement, Stiviano was "a veritable fixture" at Sterling's business offices.
TMZ reports that she considers herself his "archivist" and that's why she was taping their conversations:
What's more … our sources say Stiviano routinely recorded her conversations with Sterling as HIS "archivist."  And what's more … she would regularly play the tapes back to him because he would often forget what he had said.
The L.A. Times adds, "An advertisement for a 2011 charity luncheon lists Stiviano as a director of the Donald T. Sterling Charitable Foundation, with Sterling as chairman."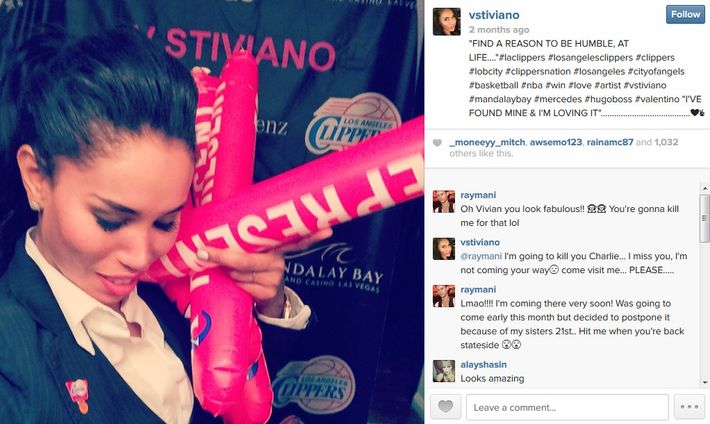 On her very fancy Instagram, however, Stiviano's bio flaunts her multitasking: "I do it all. Artist,Lover,Writer,Chef,Poet, Stylist, Philanthropist."
Sterling's wife, however, isn't buying the "all business" shtick
In the lawsuit filed last month, Rochelle Sterling, who married Donald in 1957, claims "the feminine wiles of Ms. Stiviano overpowered the iron will of" her husband, "who is well known as one of the most shrewd businessmen in the world."
The wife alleges that Sterling met Stiviano at the 2010 Super Bowl in Miami, and has since given her a Ferrari, two Bentleys, a Range Rover, and a $1.8 million duplex, not to mention more than $250,000 cash (all because of Stiviano's fraudulent ways, of course).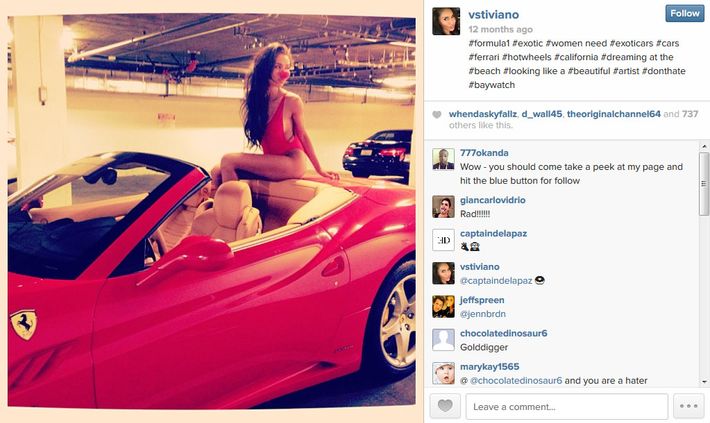 Not that such behavior is out of character for Mr. Sterling
During a 2003 sworn deposition in a lawsuit against another former mistress, Sterling described the arrangement as he understood it: "It was purely sex for money, money for sex, sex for money, money for sex … I was paying her. It was in exchange for sex. It wasn't a gift. I wasn't giving her money without her performing something for me. And if it wasn't good, I wouldn't give her anything. It was money for sex. How can you say it was a gift? If a man has an affair with a prostitute, is that a gift? It is not a gift."
The not-gifts, as well as some black men, are all on display on Stiviano's Instagram, which remains public at the moment
That's where this all started. "You can sleep with [black people]," says Sterling in the clips. "You can bring them in, you can do whatever you want. The little I ask you is not to promote it on that … and not to bring them to my games … In your lousy fucking Instagrams, you don't have to have yourself with, walking with black people."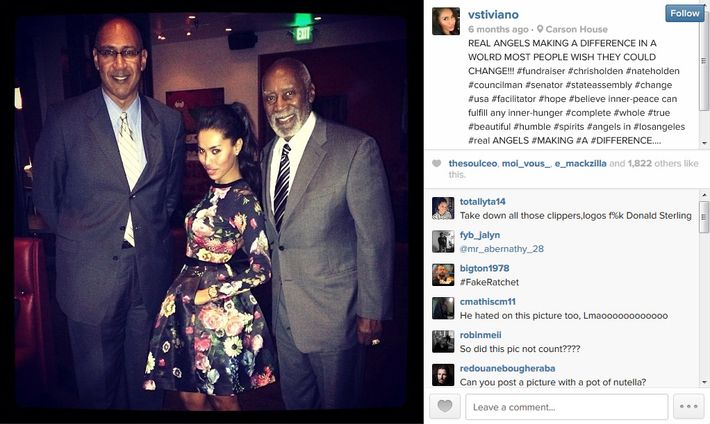 The offending photo, since deleted, showed her with NBA legend (and future Clippers owner?) Magic Johnson: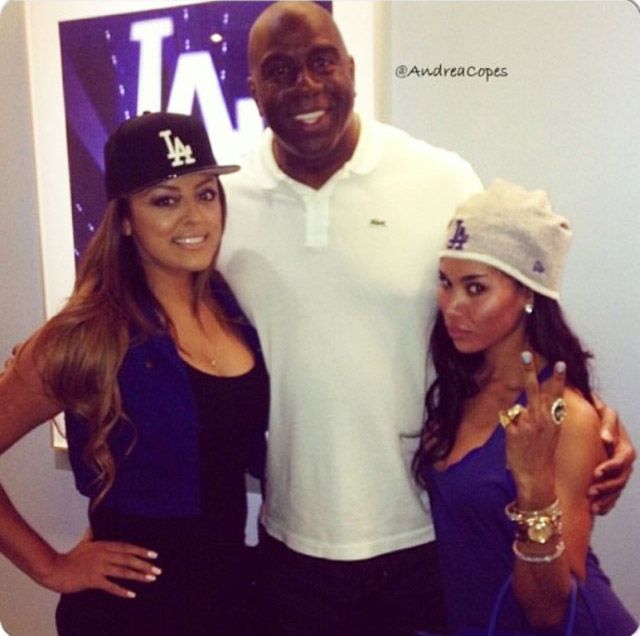 But she was also pictured with Dodgers star Matt Kemp, who "is mixed … just like me," Stiviano informed Sterling: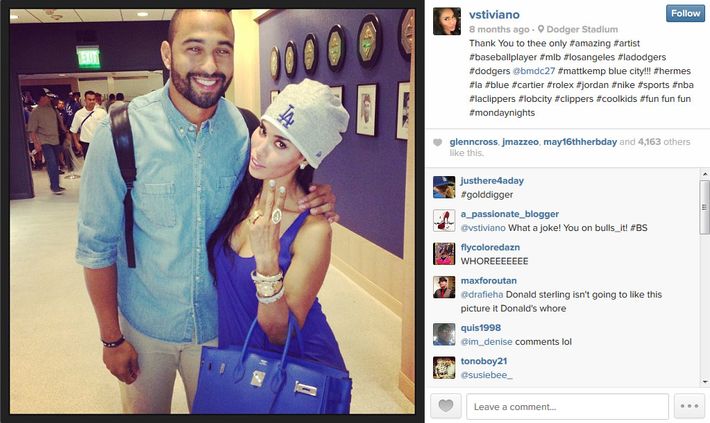 "One day I will look back at Instagram & say, 'I've been there & I've done that,'" says Stiviano's bio.
Still, Stiviano is keeping her distance from the tapes, for now
"This office understands that the currently released audio tape of approximately 15 minutes is a portion of approximately one (1) hour of overall audio recording of Mr. Donald T. Sterling and Ms. Stiviano, and is in fact legitimate," Nehoray, her attorney, said in a statement. "Ms. Stiviano did not release the tape(s) to any news media."
And she's mostly laying low, although probably not for too long
Here she is walking her dog over the weekend:
And that $1.8 million duplex today:
But TMZ notes that she has literary aspirations:
And this is interesting … on Stiviano's Instagram page, she constantly tagged photos with "#RandomHouse" and "#Simon&Schuster" … both large book publishing companies.

Sources connected with Stiviano tell us … she IS in the process of writing a book "about life" – but she insists it is not about Sterling.
Neither publishing house responded immediately to a request for comment from Intelligencer.
While she may be the hottest potential interview subject out there — Oprah? Robin Roberts? Matt Lauer? — for now Stiviano just wants to go about her business. On Sunday, "She told a reporter she was on her way to church."
Update: The full lawsuit from Sterling's wife against Stiviano can be seen here.

Following Stiviano's cooperation with the NBA investigation of the tape, Sterling has been banned from the league for life.