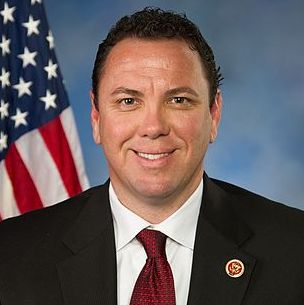 Photo: US House of Representatives
Republican Representative Vance McAllister, a proud family values Christian with five children, can be seen on security footage putting his face very close to the face of a female aide who does not appear to be his wife. The key section of the grainy clip, obtained from an anonymous source and published by the local Ouachita Citizen, lasts about 30 seconds, with the lights off, meaning it might be more strange if they're not actually kissing.
The Citizen reports that the woman in question is Melissa Anne Hixon Peacock, McAllister's district scheduler and a family friend. McAllister, who has been married for 16 years, went to high school with Peacock's husband before going on to work with him until running for the House. The Peacocks each donated $5,200 to the campaign.
Previously, McAllister, a freshman congressman, was best known as the guy who brought Duck Dynasty star Willie Robertson as his guest to the State of the Union address. This is arguably worse for his Google results.
Update, 5:25 p.m.: McAllister has apologized, vaguely, in a statement.
"There's no doubt I've fallen short and I'm asking for forgiveness," he said. "I promise to do everything I can to earn back the trust of everyone I've disappointed. I don't want to make a political statement on this, I would just simply like to say that I'm very sorry for what I've done. While I realize I serve the public, I would appreciate the privacy given to my children as we get through this."