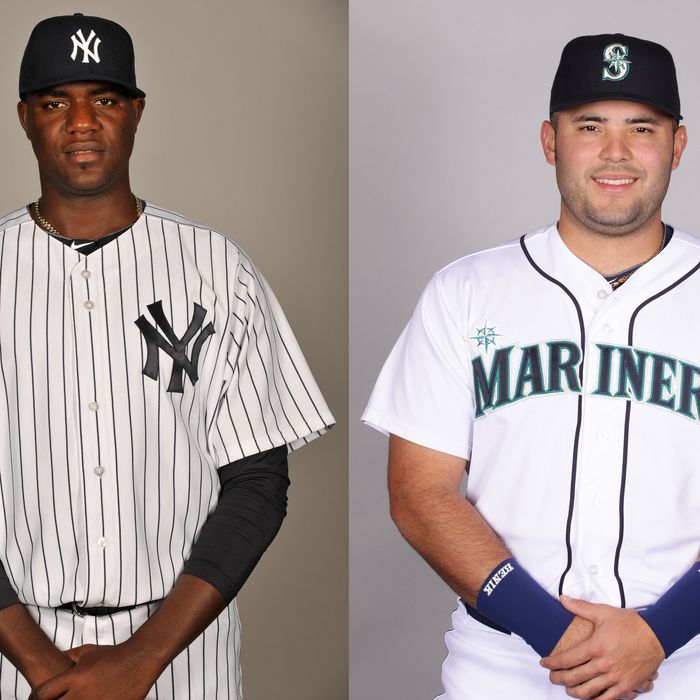 Michael Pineda and Jesus Montero.
Photo: Tony Firriolo; Jason Wise/MLB Photos
On January 13, 2012, the Yankees sent Jesus Montero, the crown jewel of their farm system who had impressed during a month in the majors the year before, to the Seattle Mariners in a trade that brought back promising young pitcher Michael Pineda. The Yankees made the move on the same day that they signed Hiroki Kuroda, and in one day, it appeared as if they had re-shaped their rotation. Pineda had been named an All Star as a rookie in 2011, and had finished with the second most strikeouts per nine innings in the American League. At the time, it appeared that both teams were adding stars in the making, but it hasn't quite turned out like that. Montero has been a flop in Seattle and was suspended last season as a result of Major League Baseball's Biogenesis investigation. Pineda, meanwhile, didn't throw a single pitch for the Yankees in either 2012 or 2013. But on Saturday, Pineda finally made his Yankees debut, allowing just one run in six innings but getting no run support in a 4-0 loss to Toronto. So, more than two years later, who won the trade? The answer to that question has changed over time.
January 2012
At the time of the trade in the 2011-12 off-season, both teams appeared to have gotten a good deal. Montero had lived up to considerable hype at the plate during his stint in the majors the previous year, and even if his defense never came around, Seattle figured they could use him as a designated hitter. As for the Yankees, Brian Cashman often says that pitching holds the "keys to the kingdom," and it's not often a team can acquire such a promising young pitcher. And while Pineda wasn't as good after the 2011 All Star break as he was before it, the Yankees believed they'd bolstered their rotation.
Who's winning? Both teams. It was a classic win-win.
April 2012
Pineda had reported to Yankees camp at least ten pounds overweight and had struggled with his velocity during spring training. In April, it was announced he would need surgery to repair a labrum tear in his right shoulder and that he'd miss the entire 2012 season. Montero, meanwhile, would be named Seattle's Opening Day designated hitter, and though his first month with Seattle was hardly spectacular, he'd appear in 21 games by the end of April, homering four times.
Who's winning? Seattle.
September 2012
Montero finished his first full season with an unimpressive slash line (.260/.298/.386) and a negative WAR (-0.1, to be exact). But it's still better than Pineda's first season as a Yankee, which he finished with zero innings pitched and one arrest for DUI.
Who's winning? Seattle, if only by default.
June 2013
Montero got off to a terrible start in 2013, batting .208 through 29 games with an OPS+ of just 69, far below average. In May, he was sent to the minors, and on June 1, he was diagnosed with a torn meniscus in his left knee that would require surgery that would keep him out for six weeks. Pineda, meanwhile, appeared to finally be on the right track: In his third minor-league rehab start, he threw six shutout innings for AA-Trenton, allowing just two hits and reaching the mid 90s with his fastball. Even though the Yankees weren't counting on much from Pineda in 2013, by late June, it appeared that even if there wasn't a spot in the rotation for him, he could pitch out of the Yankees' bullpen once his rehab stint was complete.
Who's winning the trade? The Yankees, albeit barely.
August 2013
On August 4, Joe Girardi announced that Pineda had complained of "stiffness" in his shoulder and would be going for an MRI. And though it would show no problems and Brian Cashman held out hope that Pineda could pitch for the Yankees in 2013, it didn't happen. On August 5, Montero was suspended for 50 games as a result of the league's investigation into Biogenesis. He didn't appeal the ban.
Who's winning the trade? No one.
April 2014
Montero arrived at Mariners camp 40 pounds overweight. (He explained that after winter ball, "all I did was eat.") Said Mariners general manager Jack Zduriencik in February: "I have zero expectations for Jesus Montero. Any expectations I had are gone." Montero actually hit pretty well in spring training (two homers and a .976 OPS in 12 games), but was sent to AAA in mid-March. Pineda, meanwhile, won a spot in the Yankees rotation during the spring: He finished with a 1.20 ERA and a 1.00 WHIP, striking out 16 batters and walking just one in 15 innings. His fastball is touching 95 (down from the 97 or 98 he threw with Seattle), but he's also improved his change-up. In his first Yankees start on Saturday, he struck out five and didn't walk a batter. Most importantly, he's shown no signs of lingering health issues. Said Cashman in Tampa at the end of spring training: "He's throwing strikes and he's healthy. By his personality, you can tell he feels really good about where he's at … If he can maintain what he's shown down here in season, then he'll give us a lot."
Who's winning the trade? The Yankees, for now.