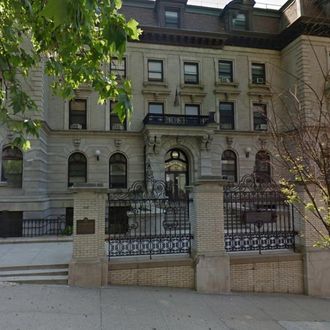 The Highbridge Woodycrest Center.
An unidentified social worker is suing her ex-boss, 53-year-old retired NYPD officer Michael Reingold, for repeatedly raping, assaulting, and harassing her when they worked together at the Bronx's Highbridge Woodycrest Center. According to the 20-page lawsuit, the 47-year-old woman was hired by Bronx Lebanon Hospital in July 2012 to care for AIDS patients at Highbridge Woodycrest. She says that she was suspicious of Reingold starting on the day he interviewed her for the job, when he allegedly said nasty things about his wife and told her, "You look much better in person than on your LinkedIn page." She says she took the position anyway because she needed the $70,000 salary.
The plaintiff alleges that Reingold began hitting on her immediately after she started work, and informed her that he was an ex-cop and that "she was required to do whatever he said or she would be fired." She claims that, about a month later, he led her to a dark, isolated room, where he
"quickly spun plaintiff around and pushed her down into the desk chair, shoving his tongue in plaintiff's mouth while pulling plaintiff's hair," and unzipped his pants. She was then moved to a new office that could be locked from the inside. Reingold would sometimes visit her there several times a day, and allegedly raped her at least 18 times.
The victim, who says she had been sexually assaulted in the past, became "so anxious and terrified that she would frequently vomit from the terror," according to the suit. When she finally alerted HR as to what was going on, she was told, "You have to go or he will hurt you." She eventually resigned after about a year on the job. The plaintiff's attorney, Derek Smith, told the New York Post that Reingold was fired after his client filed a complaint with the Equal Employment Opportunity Commission last fall. One Highbridge Woodycrest employee told the New York Daily News that Reingold "acted like he was untouchable," while another noted that "a lot of things were going on" in the office. When reached for comment, Reingold said that he was just hearing of the lawsuit, though he was aware of the EEOC complaint that led to his firing. "They notified me of something, but that was months ago," he told the Post. He declined to answer more questions about the horrifying allegations.