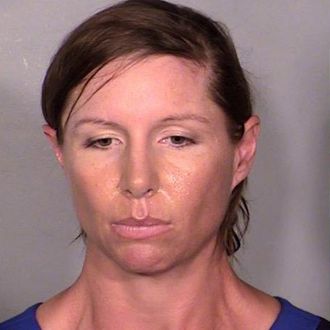 The 36-year-old woman who threw an orange-and-black sneaker at Hillary Clinton at the Mandalay Bay hotel last week was re-arrested in Phoenix on Monday night after federal prosecutors charged her with trespassing and violence against a person. On Tuesday, a judge ordered that Alison Michelle Ernst remain in jail until she is sent back to Las Vegas to deal with her new legal problems. She could face up to two years in prison if convicted of the federal charges.
She had been on her own since the immediate wake of the shoe attack, when questioned by the Secret Service and then released with misdemeanor disorderly conduct charge. According to the police report from the incident, Ernst, who wore a blonde wig and flip-flops for her meeting with Clinton, was "in an agitated state but aware of what she had just done." Though her motive for going after the former secretary of state is still unclear, Ernst's last-known encounter with the law might give us an idea of what she had on her mind. According to the National Journal, she was removed from a Colorado courtroom in August 2012 after interrupting an appearance by Aurora movie-theater shooter James Holmes:
After her outburst, Ernst filed a motion in court alleging that Holmes was "mind-controlled" by a powerful conspirators.

"Holmes is an innocent man. James Holmes must be released to me asap [sic]. This is a huge conspiracy," Ernst's motion read, fingering a prominent businessman as the true mastermind of the attack. He is, she continued, "involved in with new world and a group of cabal evil worldwide crooks who want to control the world through false flag attacks akin to George Orwell 1984 [sic]."

The judge dismissed the motion and local media described the document as "bizarre." On what appears to be Ernst's personal website, she posts another court motion involving Holmes, this one a request for a restraining order against the confessed killer.

"James Holmes [is] entering my mind through subliminal messaging and causing me to be obsessed with him on a daily basis," she wrote in that document. She added that she is "facing imminent danger and bodily harm from defendant James Holmes," even though he was in custody at the time.
Take that, shoe truthers.