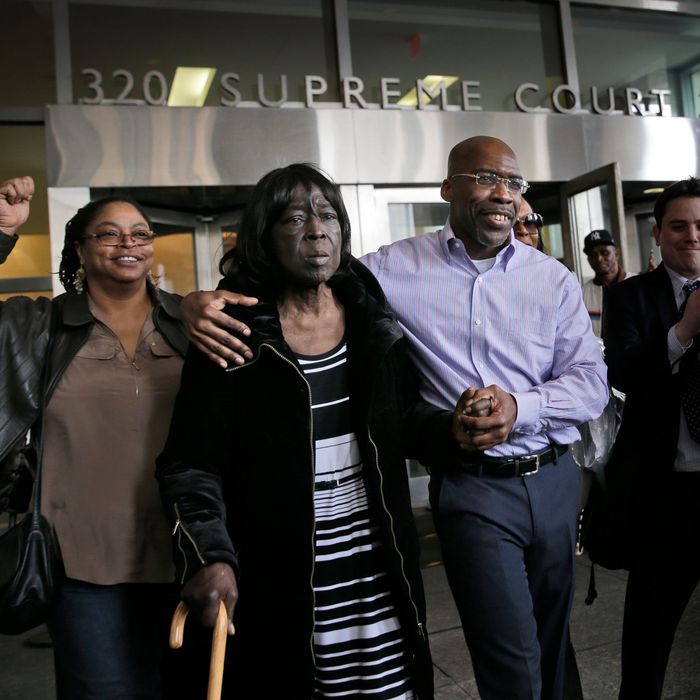 Jonathan Fleming exits the courthouse with his arm around his mother.
Photo: Seth Wenig
Jonathan Fleming, 51, walked out of a Brooklyn court as a free man on Tuesday, 24 years after he was convicted of a New York murder committed while he was on vacation at Disney World. While Fleming presented photos and videos of his trip to Orlando, prosecutors claimed during his trial that he could have flown from Florida to New York, shot his friend Darryl "Black" Rush, and traveled back to Florida. Recently prosecutors reviewing the case found a receipt from a Quality Inn in Florida dated just five hours before the murder occurred, which was in his case file but was never turned over to defense attorneys. "It could not have possibly been a mistake," said Taylor Koss, one of Fleming's lawyers.
The case file also contained a report from Florida police, who said hotel staffers remembered seeing Fleming. One eyewitness recanted her testimony shortly after Fleming's conviction, saying she lied so police would let her off after she was arrested in an unrelated case. Prosecutors said other witnesses have pointed to another suspect, and they may go after him now.
"I've waited for this day to come 24 and a half years, for this nightmare to be over," Fleming told reporters after his conviction was vacated. "This day is finally here—I thought about this many nights. I'm finally a free man; justice has definitely been served today." When asked about his plans as he left court with his mother and two of his four children, Fleming said, "I'm going to go eat dinner with my mother and my family, and I'm going to live the rest of my life."