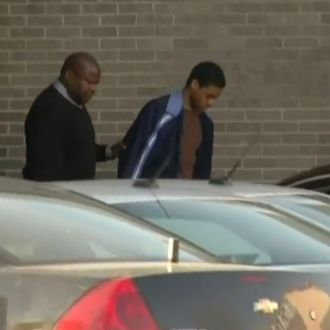 Kahton Anderson, 14, is charged with killing a stranger on a Brooklyn bus on March 20, after allegedly firing a shot at members of a rival gang and instead hitting 39-year-old Angel Rojas, a hardworking father of two. Anderson was in court today, where he pleaded not guilty as the victim's widow "left in tears," the New York Daily News reports. A statement Anderson gave to police following the shooting, made public today, reveals his mind-set: warped, maybe, but also afraid, and so, so young.
Who did I hit? Was it a rival or an innocent man? Why didn't I just go home? They came at me on the bus, and I was scared. Yo am I gonna do life for this? It's my brother's gun. It's war out here, so niggas gotta carry guns. Oh man I'm fucked man, that nigga Jayquan man. Every time I'm with this nigga
"Kahton's culpability has to be considered in light of all the surrounding circumstances," Anderson's lawyer said. The boy faces up to life in prison in convicted. He has been charged as an adult.