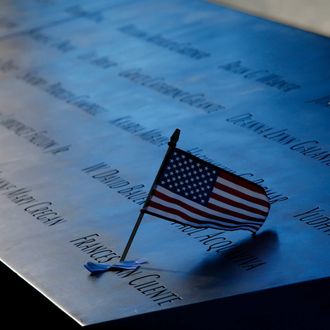 Photo: Pool/2012 Getty Images
Some 40 "anguished messages" have been scratched into the bronze plaques listing victims at the 9/11 Memorial Museum, including lines like "Love4Ever," the New York Post reports. For obvious reasons, especially amid the museum's shaky first week of press, no arrests have been made, and there's been no effort to identify those responsible using security footage or the victim's name. 
"Can you imagine the conflict a cop would feel about having to bust someone for leaving a personal message to honor a dead relative who was murdered at Ground Zero?" said a law enforcement source. Instead, workers quietly paint over the messages to restore the original sheen, though maybe the memorial should consider adding a display that welcomes more interaction. The gift-shop cheese plates don't count.