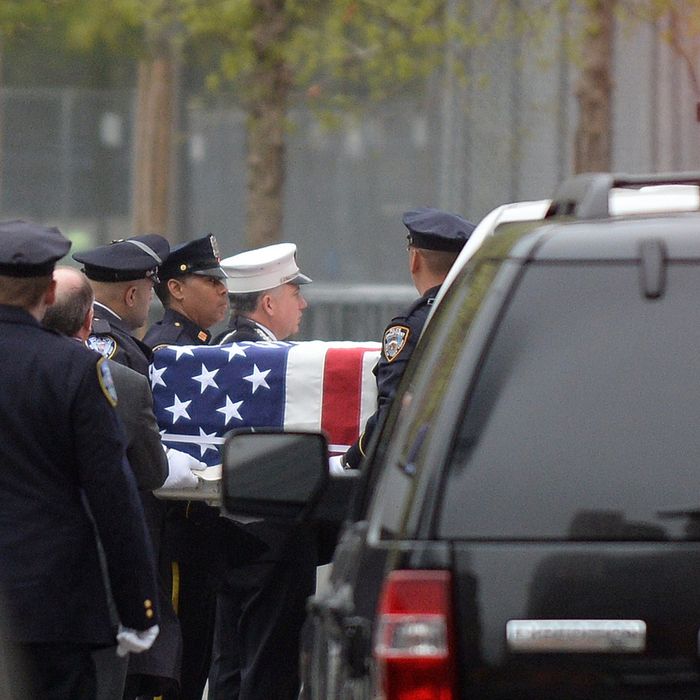 On Saturday morning, the unidentified remains of those killed in the Twin Towers were transferred from the city medical examiner's office to Ground Zero. The New York Times reports that they were placed in three "coffin-sized" cases, draped with American flags, and loaded into vehicles belonging to the FDNY, NYPD, and the Port Authority. A procession then drove from East 26th Street in to the building that houses the new National September 11 Memorial & Museum. The remains will be stored there in a special repository that is separated from the rest of the museum and accessible only to the families of the victims.
A group of the families of the dead protested the move by appearing at Ground Zero with black cloths placed over their mouths. Those families said that they were not properly consulted about the abruptly announced transfer of their loved ones' remains to a soon-to-be-opened tourist attraction. "We had no say in what was going on here," said the father of a firefighter killed in the attack. "You can't tell me that tour guides aren't going to be going inside that building and saying, 'Behind that wall are the victims of 9/11.' That's a dog and pony show." Meanwhile, some are worried that the building is prone to flooding.
Still, others said that they felt that the museum building was a fitting place for the remains. "I thought it was just ridiculous; everyone is too political over this," said a woman whose brother who died on September 11. "I just wanted to come and pay my respects, to be in the moment." The nearly 8,000 pieces are still under the jurisdiction of the medical examiner, which will continue the effort to identify them off-site.