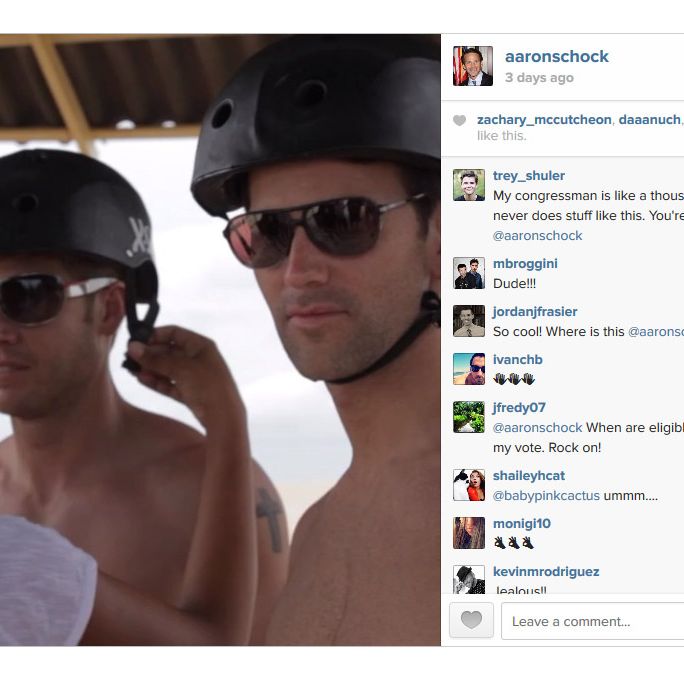 Earlier this year, the New York Times published a story about the public outing of an anti-gay Republican without ever mentioning in print that it was Representative Aaron Schock of Illinois. Today, the Paper of Record is back with a hilariously coy follow-up, "Aaron Schock and His Popular Instagram Persona," about what a "stud" he is and how much men on the internet happen to love him. (Previous Times coverage of Schock includes "Shirtless Schock on Cover of Men's Health" and "A Congressman's Abs Garner Yeas.") The joke is largely between the lines.
The Times reports that Schock's life "looks pretty sweet," citing his social media presence, which features copious photos of the congressman shirtless. "And there are plenty of shots of him doing official work," the paper adds, "like marching in a parade ('I like the Lacoste yellow!' commented one fan. '#yum' wrote another.)" Both, it is not noted, were left by men:
The Times does go there, kind of:
"Ride it, baby," a man from New York wrote. Another man commented, "Rawr!" Someone with an anonymous profile wrote, "URGH marry me you fiscally conservative stud you." (Mr. Schock has said that he is not gay.)
It's all about playing it straight.
What the article doesn't mention at all is the outing incident, which occurred on Facebook and featured a prominent link to the blog post, "The 7 gayest Aaron Schock Instagram posts of 2013." Nor does it include the fact that amid the gay rumors, Schock made his account private. It's back, for now, and could be described as shameless.