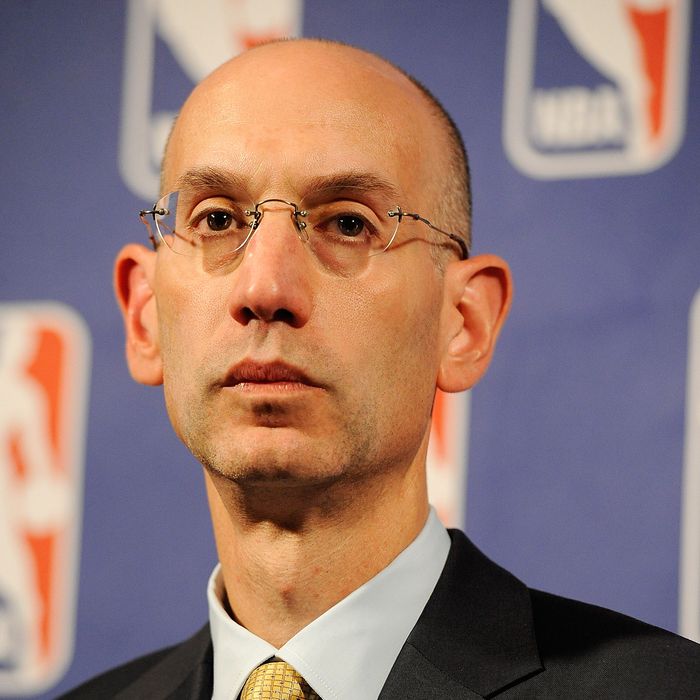 Photo: Patrick McDermott/Getty Images
Maureen Dowd's most recent column takes President Obama to task for being a wimpy girly-man who fails to lead, unlike a certain decisive NBA commissioner who isn't afraid to lead:
You should take a lesson from Adam Silver, a nerdy technocrat who, in his first big encounter with a crazed tyrant, managed to make the job of N.B.A. commissioner seem much more powerful than that of president of the United States.

Silver took the gutsy move of banning cretinous Los Angeles Clippers owner Donald Sterling for life, after many people speculated that there was little the N.B.A. chief could do except cave. But Silver realized that even if Sterling tries to fight him in court (and wins) he will look good because he stood up for what was right.
Yeah — why doesn't Obama just call Vladimir Putin into his office and tell him he's banned for life from meddling in Eastern Europe?
Dowd's cri de coeur aroused the passion of columnist Ron Fournier, whose journalistic mission is to own the magical-thinking leadership beat:
Of course, being a columnist himself, Fournier doesn't have to simply wish he wrote a why-isn't-Barack-Obama-like-Adam-Silver column of his own. He actually wrote one.
Meanwhile, the New York Times reports today that Silver initially proposed a much weaker response. Silver initially wanted to levy a suspension and a $1 million fine.
While Silver was exhausted, roiled by the day's events and wrong about the maximum fine possibility, his response, and Vecsey's Twitter post, seemed to put the Sterling case in line with past transgressions. That was not what Johnson and the players wanted to hear.

When Silver consulted league lawyers on Sunday, he realized the maximum fine was actually $2.5 million. He was also told that under Article 35A of the league's constitution and bylaws, he had "the power to suspend for a definite or indefinite period," which N.B.A. lawyers interpreted as the right to ban Sterling for good.
So Silver initially hedged, then his view evolved as he slowly built a consensus and led from behind. Why can't Obama make decisions more like that?