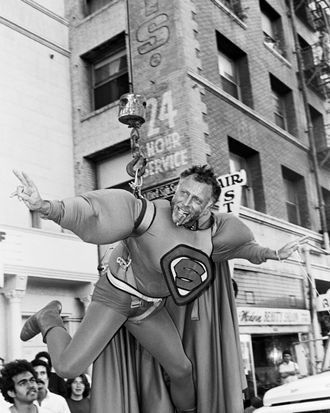 Screw Magazine publisher, Al Goldstein, entertains a crowd of onlookers outside the 1980 Hollywood, California, Adult Entertainment Awards held at the Palladium.
Photo: George Rose/Getty Images
"I'm still on the fence about shaking people's hands in here," said my friend as we stepped into Al Goldstein's memorial at the Museum of Sex last night.
The send-off for Goldstein, the legendary publisher of Screw Magazine who died in at 77 in December, drew a crowd featuring Gilbert Gottfried, Terry Richardson, the writer Ratso Sloman, and, via video, Penn Jillette. There were even a handful of female admirers in "GOLDSTEIN FOREVER" T-shirts (Sample guest book entry: "You were a big inspiration to me + my fucking hero. Plus, you fucked Mary in my father's office at Pace University! I love you you fat bastard! - Danielle"). Looking on was Herald Price Fahringer, a Waspy wheelchair-bound First Amendment lawyer who represented Goldstein on his famous 12-count obscenity case, where he faced up to 60 years in prison.
"Goldstein made the First Amendment real," Mr. Fahringer said. "He made a lot of speech that a lot of people hated." That included everything from his peep show reviews in Screw that used penises instead of stars (four penises being the best) to his "Fuck You" segments on his cable access show — rants against airlines, KFC, the New York Times, Robert Morgenthau, and so on, always ending with that catchphrase and a stubby middle finger.
"I mean, everything about him was disgusting," said Gottfried, as he sampled from the crates of White Castle burgers (a Goldstein favorite). "He could make a story about walking down the street and smelling the flowers disgusting."
In front of a Museum of Sex installation showing puppets having group sex, Sloman emceed the memorial service, which saw video tributes from Jillette and Ron Jeremy, a written one from the urological doyenne Annie Sprinkle, and an anti-Semitic, digitus medius–heavy send-off from Gottfried: "I HOPE YOU'RE SUCKING THE DICKS OF JOSEPH GOEBBELS AND JOSEF MENGELE IN HELL! FUCK YOU! FUCK! YOU!"
Goldstein's many lawyers told of his legal woes, which, in combination with other personal problems, would have him living on the street in later years. Charles Destefano recalled being summoned to the bench in one case after Goldstein had faxed the judge some gay pornography with superimposed heads of the judge and the Brooklyn district attorney. Mr. Fahringer's partner Erica Dubno recalled how they'd told Goldstein to wear something nice to one sentencing hearing — and he showed up wearing a cartoony black-and-white prison jumpsuit (it went with him to Rikers Island). "Jail means nothing to me," Goldstein yelled at the trial. "Because freedom means so much to me." After six days, Ms. Dubno went to pick him up. The bus driver pulled up and said, "Al Goldstein? On my bus, you ride for free!" Together they turned around and gave Rikers a farewell fuck-you.
After the service, longtime Screw contributors stuck around to trade war stories and nosh on the remaining White Castle. Josh Alan Friedman, son of writer Bruce Jay Friedman, reminisced with fellow massage parlor reviewer Manny Neuhaus about the difficulties of that job, including dealing with the mob. If a certain parlor received a bad review, mafiosos would start to harass the reviewer on the street — a problem that was later solved by Goldstein's partnership with mobster Robert DiBernardo. Friedman said that he tried to keep his face out of the press so that if he walked into an establishment they wouldn't give him special treatment. "It was supposed to be the common man's experience," he said.
Outside, Terry Richardson obliged a member of the 69'ers motorcycle gang by posing for a photo in front of Goldstein's car, a white Cadillac with fuzzy dice and an American flag at half mast on the antenna. Richardson mugged and threw up a signature thumb as he waited for the flash.
"Hey!" shouted a woman coming out of the museum. "You're using the wrong finger!"