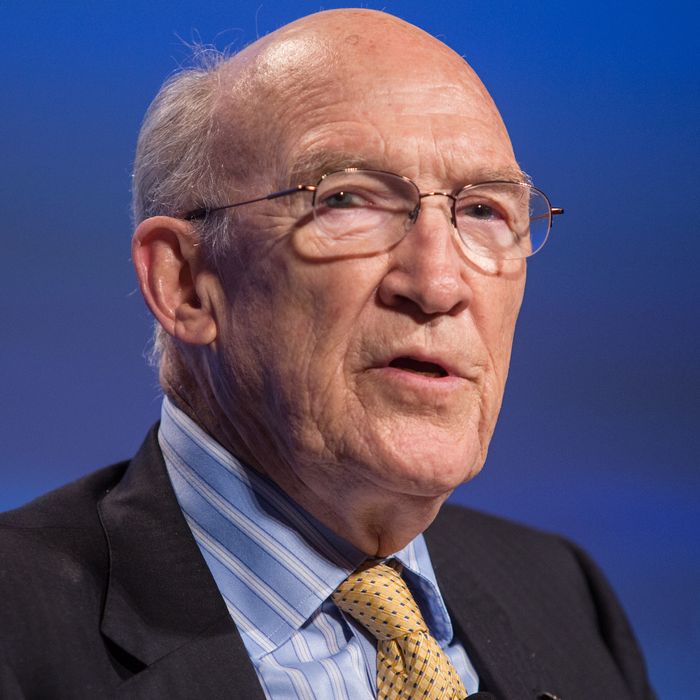 Photo: Brendan Hoffman/2012 Getty Images
Former Senator Alan Simpson is known for being plainspoken, so maybe it's no surprise that he was willing to offer some frank advice to a younger couple going through a rough patch. In Wednesday's episode of WNYC's "Death, Sex & Money," reporter Anna Sale explains that she and her boyfriend, Arthur, recently decided to go on a break because she felt they couldn't make their long-distance relationship work: She is based out of New York, and he's studying wildlife in Wyoming — the state Simpson represented for 18 years. Desperate to win Sale back, Arthur wrote to Simpson and asked the 82-year-old most recently known for his bipartisan effort to reduce the deficit to speak to her on his behalf. "I've poured my heart and soul into Wyoming for six years," Arthur explained. "Consider it a favor for a man who risked it all for that place." Simpson and his wife of over 60 years, Ann, obliged.
The two couples ended up getting together in Wyoming for a conversation about relationships, and the Simpsons shared many insights on how to make love last. "The hardest thing for all couples to talk about is sex. And it's hard to believe, but it is," Ann explained. "And the big issues in all marriages, that hang it up, is your sexual relationship. Whoever is the most aggressive, the other one is in control." Her husband elaborated:
Then when you talk about that, you think, well there's a couple of horny people. No, that's not the point. It's called intimacy. Scratch my back. Give me a hug. Just a hug. I'd say, ok [pant-pant-pant]. Just a touch, you know, a whack on the fanny in the kitchen.
So, there it is: Sex advice from the octogenarian politician who brought us "the Enema Man and Snoopy Snoopy Poop Dogg." Do with it what you will.