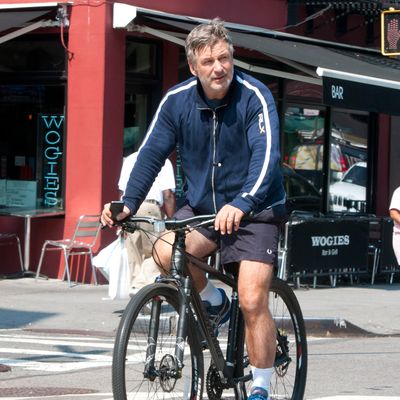 Temperamental actor Alec Baldwin was arrested in New York on Tuesday, In Touch first reported. The police say that he was busted riding his bike against traffic on Fifth Avenue and 16th Street at around 10:15 a.m. After being asked for identification, Baldwin — who apparently left his at home — became "belligerent" and "cursed" at the officers, because that's what he does. An In Touch witness confirmed that Baldwin "went ballistic" and "screamed" at the cops.
"Fuck this … this is horseshit," Baldwin said during the ordeal, according to DNA Info's police sources. "Don't you know who I am?" (However, another person said that he became "calm and quiet" by the time he was handcuffed and loaded into a car.)
Baldwin later tweeted, "New York City is a mismanaged carnival of stupidity that is desperate for revenue and anxious to criminalize behavior once thought benign." Of course.
He was taken to the 13th Precinct, where he was given summonses for the cycling violation and disorderly conduct. ("You can wrap those summonses around your head," Baldwin allegedly said.) Apparently, when the police want to ticket someone who isn't carrying an ID, that person has to be taken to the station. It seems that Baldwin wasn't buying that:
Caroline Samponaro, a senior director at Transporation Alternatives, shed some light on Baldwin's biking situation: "The reality of right and wrong way is that it's a ticketable offense," she told Intelligencer. "It's not something you'd normally get arrested for unless there was something else going on."
"It's important that everyone goes with the flow of traffic. But this is probably the most famous instance of it," said Samponaro. But she rejected the idea that Baldwin's behavior reflects poorly on cyclists in general. "It's a silly phenomon to think one bike rider represents all bike riders," she said. "It probably reflects more poorly on him."
Shortly after the incident, Baldwin shared his side of the story on Twitter. As usual, he found a way to blame somebody else for his bad behavior: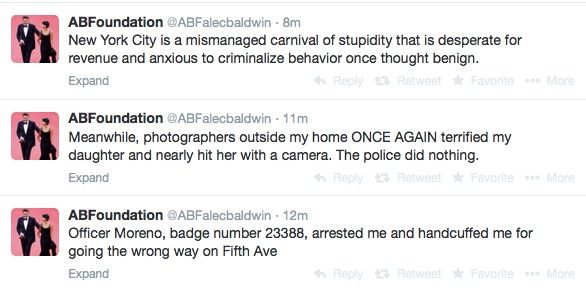 And, right on cue, wife Hilaria chimed in to confirm that she'd had a problem with the paparazzi earlier in the day:
"Wanna be a celebrity?" Hilaria wrote on Instagram. "Enjoy."
Maybe it really is time for the Baldwins to leave New York.
This post has been updated throughout.