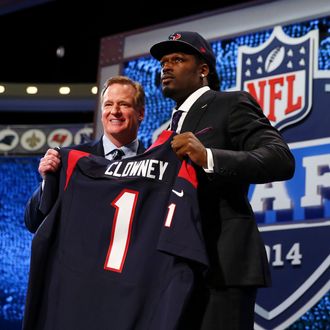 First overall pick Jadeveon Clowney.
Photo: Elsa/Getty Images
For the first time last night, the NFL allowed the prospective draft picks in attendance at Radio City Music Hall to choose the music they'd take the stage to after hearing their names called. It was hard to make out the songs at home — viewers couldn't really hear them over the sound of applause and Chris Berman's voice — but the league released a list of each player's music before the draft began.
Top overall pick Jadeveon Clowney, for instance, went with "The Man" by Aloe Blacc. Jake Matthews selected a piece of music from the movie Rocky. And Johnny Manziel chose "Draft Day" by Drake (which mentions him by name) because of course he did.
The full list is below. Spoiler: Draftees really like Drake.
1. Jadeveon Clowney, DE, Houston Texans
"The Man," Aloe Blacc
2. Greg Robinson, OT, St. Louis Rams
"Happy," Pharrell Williams
3. Blake Bortles, QB, Jacksonville Jaguars
"Blow Up," J. Cole
4. Sammy Watkins, WR, Buffalo Bills
"Look What You've Done," Drake
5. Khalil Mack, OLB, Oakland Raiders
"Happy," by Pharrell Williams
6. Jake Matthews, OT, Atlanta Falcons
"Going the Distance," Bill Conti
7. Mike Evans, WR, Tampa Bay Buccaneers
"Trophies," Young Money featuring Drake
8. Justin Gilbert, DB, Cleveland Browns
"We Dem Boyz," Wiz Khalifa
9. Anthony Barr, OLB, Minnesota Vikings
Not in attendance
10. Eric Ebron, TE, Detroit Lions
"They Don't Love You No More," DJ Khaled
11. Taylor Lewan, OT, Houston Titans
"Rock City," Kings of Leon
12. Odell Beckham Jr., WR, New York Giants
"The Sky's the Limit," Lil Wayne
13. Aaron Donald, DT, St. Louis Rams
Not in attendance
14. Kyle Fuller, DB, Chicago Bears
"We Made It," Drake featuring Soulja Boy
15. Ryan Shazier, OLB, Pittsburgh Steelers
"Everythang," Young Jeezy
16. Zack Martin, OT, Dallas Cowboys
Not in attendance
17. C.J. Mosley, ILB, Baltimore Ravens
"My Favorite Song," Wiz Khalifa
18. Calvin Pryor, S, New York Jets
"Dreams & Nightmares," Meek Mill
19. Ja'Wuan James, OT, Miami Dolphins
Not in attendance
20. Brandin Cooks, WR, Saints
"Everythang," Young Jeezy
21. Ha Ha Clinton-Dix, S, Green Bay Packers
"Never Would Have Made It," Marvin Sapp
22. Johnny Manziel, QB, Cleveland Browns
"Draft Day," Drake
23. Dee Ford, DE, Kansas City Chiefs
Not in attendance
24. Darqueze Dennard, DB, Cincinnati Bengals
Not in attendance
25. Jason Verrett, DB, San Diego Chargers
"Icy," Gucci Mane
26. Marcus Smith, DE, Philadelphia Eagles
Not in attendance
27. Deone Bucannon, S, Arizona Cardinals
Not in attendance
28. Kelvin Benjamin, WR, Carolina Panthers
Not in attendance
29. Dominique Easley, DT, New England Patriots
Not in attendance
30. Jimmie Ward, S, San Francisco 49ers
Not in attendance
31. Bradley Roby, DB, Denver Broncos
"Believe Me," Drake featuring Lil Wayne
32. Teddy Bridgewater, QB, Minnesota Vikings
"The World's Greatest," R. Kelly