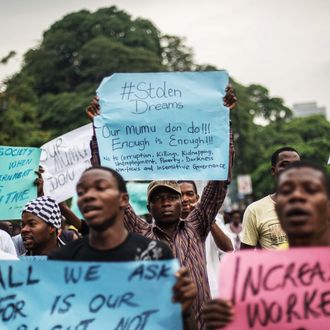 Photo: Mohammed Elshamy/Anadolu Agency/Getty Images
A new report from Amnesty International claims the Nigerian military had advanced notice about a pending attack on the town of Chibok, where 276 girls were taken from a boarding school last month, at least four hours before the mass kidnapping. According to Amnesty, people in a nearby town told the Nigerian military that armed fighters on motorcycles, Boko Haram's prefered method of transportation, had passed through on their way to Chibok, but that military commanders could not gather enough men to respond.
"There's a lot of frustration, exhaustion and fatigue among officers and [troops] based in the hotspots," one local commander told Amnesty. "Many soldiers are afraid to go to the battle fronts." The abduction was reportedly carried out by around 200 members of the militant jihadist group Boko Haram, which has terrorized the region for years, including killing more than 300 people in a town organizing a search for the missing girls this week.
The Nigerian government denies that it failed to act. "This is really outrageous, unbelievable," Minister of Information Labaran Maku told CNN. As soon as they heard an attack was underway "we went in to action," he said. "We shouldn't turn this into a trial of the Nigerian government." The military, which is notorious for exaggerating its successes against Boko Haram, and President Goodluck Jonathan have been the target of protests and international outrage since the young women disappeared more than three weeks ago.
Meanwhile, ABC News reports that Nigeria's government hired a Washington lobbying firm to help in its ongoing fight against Boko Haram last year. But while the U.S. agreed to add members to no-fly lists and freeze bank accounts, "debates within the U.S. and Nigerian governments over how much of a threat was posed by the group delayed it being declared an FTO and a military Tier One Threat Group for two years."