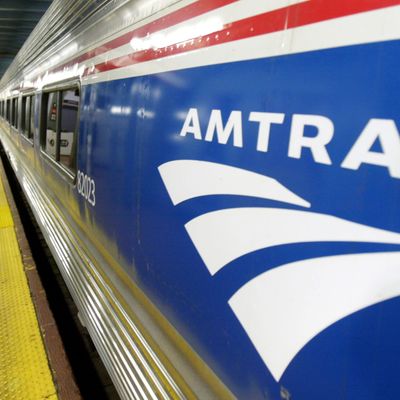 Photo: Mario Tama/Getty Images
"Hey, what happened to the #AmtrakResidency or was that just a scam to stop writers from tweeting about lousy service?" the critic Ron Rosenbaum tweeted last week. It's a logical question about a program (still very much happening) that will always feel implausible and a bit surreal.
The Amtrak Writers' Residency was a comic marketing proposition from the start — one ancillary, antiquated business (rail service) teaming up with another (books) full of people so needful of acknowledgment and peace of mind that they'd consider a week in a four-by-seven sleeper room a "residency." It was conceived not in some over-lit conference room but on Twitter, that modern Petri dish of Crazy PR Ideas That Just Might Work. Late last year, in an interview with PEN, the novelist Alexander Chee said he loved writing on trains. "I wish Amtrak had residencies for writers," he said. Journalist Jessica Gross tweeted it @amtrak, and within three days, Amtrak social-media director Julia Quinn had offered Gross a "test run." Gross wrote a rapturous essay about the experience on The Paris Review's website; even more rapturous was the online reaction from writers, published and aspiring, desperate for a few days of romantic (and free) solitude. Quinn also offered a trip to Chee (he departs for Portland May 9) and began building a more formal program, releasing an application on March 17, and in due course entrants returned to Twitter to complain about the ensuing silence.
What happened, per Julia Quinn, was 15,000 applications in three weeks from "just about anyone who'd call themselves a writer." "I learned a new literary term," she adds. "'Weeding through the slush.'" Many applicants failed to follow basic rules. "Dozens and dozens of people uploaded their entire body of work," whole manuscripts instead of the required ten pages or less. At the same time, the gears of bureaucracy and PR were grinding slowly into place and bringing the "residency" down to earth. Driven by the surprising resilience of the American Literary Dream, Amtrak is turning the program into something that will look a lot less like Yaddo than a more Pop American tradition: the talent search. Call it America's Next Top Novelist.
The (initial) enthusiasm shouldn't have been shocking. The romance of cross-country travel courses through American lit, writers are famously eager for breaks from distraction and routine, and, it turns out, even an expanding universe of self-publishing platforms can't satisfy thousands of aspiring writers dreaming of an old-fashioned Big Break. And so the mass of applicants, many unpublished (Quinn won't give the exact proportion but calls it "a healthy mix of individuals" from "all walks of life"), has helped make the program — unlike established residencies — more about discovering authors than rewarding them. "If you could fill the train with all Stephen Kings, that comes with publicity in and of itself," says Quinn, "but you're also limiting the demographic that is exposed to your product." Amtrak wouldn't want to "pass over someone who might be the next best-selling author who has yet to be discovered," especially one inspired by long-distance train travel, brought to you by Amtrak.
Quinn hopes to announce further details in mid-May, but offers New York a preview. Twenty-four "residents" will be selected on a rolling basis, beginning in the summer, and given sleeper berths for two to five days on long-distance lines during windows of low ridership, so as not to take seats away from paying customers. (There's a reason Gross's ride was from New York to Chicago in mid-January.) After some serious winnowing by a social-media team conscripted into second jobs as literary gatekeepers, the winners will be selected by five or so judges. Among them will probably be one book editor, a member of a literary nonprofit, someone from a literary journal, and likely Quinn's boss, Joe McHugh, Amtrak's VP of government affairs and corporate communications and "somewhat of a literary wonk."
Included will be food and, if all goes well, more perks courtesy of participating partners. In addition to slush-pile reading, Quinn has spent these quiet months soliciting co-sponsors — not just hotels and airlines, but a book editor willing to take a meeting. "Obviously you're not guaranteeing book deals," she says, "but I think being able to speak to someone in the publishing community would be great." For Amtrak, the residency's success will be measured in publicity. Book deal or not, the same is true for writers, who would benefit equally from a drawn-out, well-promoted process unfolding on social media. The next generation of talent searches won't necessarily be on TLC.
The big difference is that Twitter can't be scripted, and it loves a good backlash. Within hours of the application's release, writers began complaining about the contract's now-infamous Clause 6, granting Amtrak "the absolute, worldwide, and irrevocable right to use, modify, publish, publicly display, distribute, and copy" any material in the applications, including the writing sample. In response, the arts collaborative Red76 successfully Kickstarted a "Trainwreck Residency," promising "no strings attached." N+1 published a quasi-Marxist critique headlined "Train in Vain," and Bookslut blogger Jessa Crispin focused on Amtrak's legacy of decay and delay: "if someone uses an Amtrak residency to do an exposé on the hideous state of train travel in this country, then maybe it will be worth it." (Even Gross's gauzy essay noted that her 39-hour trip on the Lakeshore Limited was extended by a five-hour delay — but hey, more writing time!)
"We definitely have heard from the community in voicing their concerns," says Quinn of the Clause-6 debacle. "The idea isn't for us to exploit writers in any way, shape, or form … this is not a rights grab." On the other hand, "we do want to make the program something that we can sustain, and in order to do that, we need to ensure that we're getting some kind of return on investment."
In other words, Amtrak wants something out of it — promotion — which is why the application asks for your Facebook, Twitter, and Instagram pages. So Amtrak has heard your concerns and promises to discuss the issue with the winners, but will not be making any contract changes in what it hopes is the program's inaugural year. Why alter a legal clause when you've already netted far too many applications? In any case, Quinn is sanguine about the upside of social-media PR.
"I'm willing to take the bad with the good," she says. "Over 31 million people rode our trains last year and all of them have the potential to say good or bad stuff about us at any time. Maybe from the literary community they'll just be slightly more poetic." And for all the talk of brand partners and publicity and "return on investment," Amtrak doesn't stipulate that any resident has to write anything about the journey one way or another. "We don't believe in the idea of pay for play," she says. "If you have to pay people to say good things about your product, you might not have a very good product."