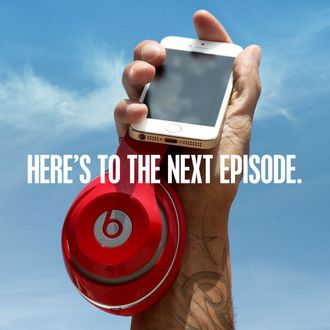 Almost three weeks after reports that Apple would buy Dr. Dre's ubiquitous Beats headphones (and less ubiquitous music streaming service), possibly because it has money to blow and cred to gain, the companies have confirmed the $3 billion deal. "Music is such an important part of all of our lives and holds a special place within our hearts at Apple," said Apple CEO Tim Cook in a statement. "That's why we have kept investing in music and are bringing together these extraordinary teams so we can continue to create the most innovative music products and services in the world." Yes, Dr. Dre, rap's newly crowned first billionaire, and his co-founder Jimmy Iovine, who is leaving Interscope, will work for Apple now.
Iovine told The Wall Street Journal that the unbelievably rich duo's titles at Apple will simply be "Jimmy and Dre."
Kevin Roose made his best guess at Apple's motives when the deal was first reported:
I guess Apple could use some cool. Many American teens have grown up in a world where Apple products are so commonplace as to lose their grandeur – they didn't see the before picture of cell phones and MP3 players, just the after. And headphones are a category where consumers have proven they're willing to spend extra for quality, aesthetics, or some combination of the two. Acquiring Beats could improve Apple's image among a group of young consumers that view it like I view Xerox – as a company that made some groundbreaking things once, but hasn't done much of note lately.