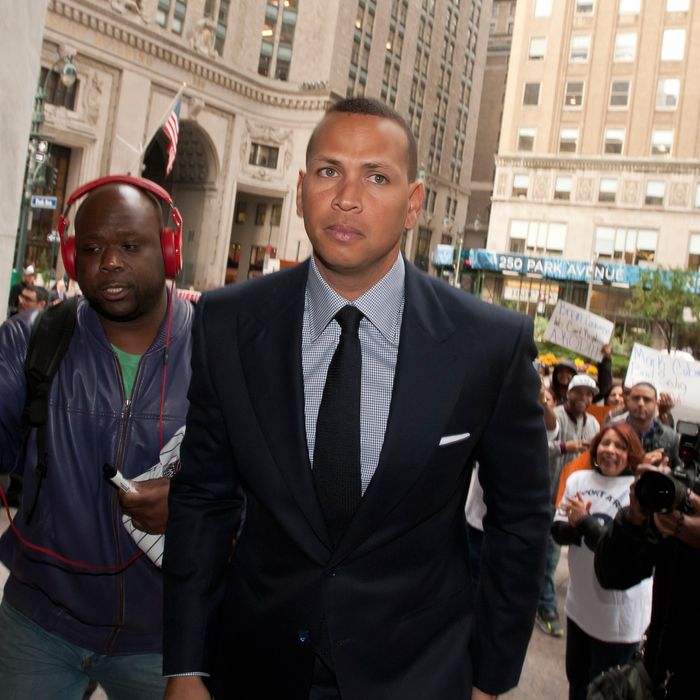 Looking for a deal.
Photo: David McGlynn / Splash News/Corbis
Alex Rodriguez, the onetime future Hall of Famer who was booted out of baseball for a season for using performance-enhancing drugs, is suggesting to people around him that he's now as interested in business as in sports. This is in contrast to the official line of his handlers, who insist that he can't wait to get back to the dugout, and that he still lives and breathes baseball. But, as a friend sees it: "He's put baseball out of his mind. He's very much unplugged from the Yankees." And Rodriguez, who has always stayed in near-daily touch with Yankees president Randy Levine, hasn't had any contact with team management during his suspension. The Yankees, for their part, aren't thinking about him either — "not on the radar," said a source.
Rodriguez has long had a talent for compartmentalizing, but he tells friends this has been a productive time for him. "He's finding that his calling in life is business," said one. Rodriguez's daily routine now involves putting on a suit, going to his Miami office where his construction and real estate company is headquartered, and plunging into the details of prospective deals — "grinding," as he refers to it. Recently, for example, he invested in a Mexican gym business.
For years, Rodriguez has been a quietly successful businessman who earns as much as $20 million a year from his non-baseball business dealings — almost as much as he is paid by the Yankees. While his girlfriends have been flashy, gossip-column fodder — Madonna and Cameron Diaz among them — his business ventures have been decidedly unglamorous. He's into low-end real estate, gyms, car dealerships. When I spoke with him several months ago, he explained his approach: "Very slow, very methodical, very boring, one step at a time. There's nothing wrong with a 6 percent yield when you're making good W-2 income."
Rodriguez tells himself that his gap year offers a chance to take "a peek" at his future, as one friend put it. His ex-wife Cynthia, with whom he shares parenting duties for their two daughters, said Rodriguez seems "balanced and focused" to her. "He's really present in the girls' lives, showing up at school events," she said.
Rodriguez has three more years left on his contract with the Yankees — worth $75 million or more with bonuses — and he is training regularly and recently dropped ten pounds. "He works out twice a day and he looks lean and fit," said Cynthia. 
But some close to him believe his heart is in building new business connections rather than reestablishing himself as an athlete. "He used to be a sports junkie," said a friend, "Now he's a deal junkie." He recently set up a private session with the New York hedge-fund manager Michael Karsch to learn how he goes about his day. Said another friend: "He'd rather talk about Warren Buffett's annual shareholders meeting than sports." Buffett is a friend and adviser who counseled Rodriguez when he was negotiating his second contract with the Yankees.
A-Rod's love of mingling with business celebrities has extended to those with reputation problems of their own. Last week, he flew to California to attend the Milken Institute Global Conference — sponsored by a group founded by Michael Milken, the onetime junk-bond king who spent time in prison for securities fraud — where he had a drink with billionaire hedgie Steven A. Cohen, whose firm was indicted last July on fraud charges.   
While at the conference, Rodriguez also met with Magic Johnson, the face of a group that recently bought the Los Angeles Dodgers for a record-breaking $2.3 billion. In sunnier times, A-Rod thought of Johnson as a role model and even toyed with the idea of running for political office. While he knows he's blown the chance to be the front man for anyone's venture, he's got capital he's willing to put at risk, and that makes him attractive to deal-makers. 
His suspension by MLB, and the subsequent arbitration hearing, was epically ugly and contentious. Rodriguez took the opportunity to argue in the media and in court papers that MLB had behaved like a criminal organization, sliding envelopes of cash across tables, and bullying witnesses. MLB won the war when Rodriguez accepted his suspension and quietly withdrew a lawsuit, but A-Rod got a measure of satisfaction last week when the league quietly "restructured" its investigative unit, leaving the most controversial investigators out of jobs.
"That's a little vindication," said Joe Tacopina, Rodriguez's lawyer. A-Rod still has a malpractice suit against the Yankees, but Tacopina said that the case was inactive.
While friends wonder how much Rodriguez — approaching his 39th birthday and having endured multiple surgeries — is really committed to returning to work for a Yankee management that has no patience for him, Cynthia believes A-Rod is still focused on baseball, and that he's just in a holding pattern during the suspension. "He's keeping his mind busy doing other things," she said.