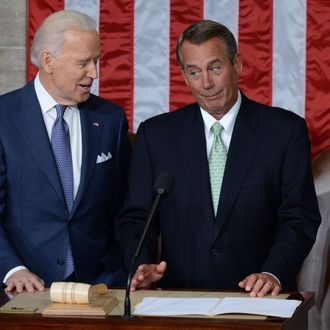 The choice is obvious.
Photo: JEWEL SAMAD/2014 AFP
Usually, celebrity prom invites are reserved for Kate Upton and Miss America. It takes a special type — or losing a bet? — to invite the vice president. "Joe Biden makes me laugh," said Talia Maselli, a high schooler in Connecticut. "He just cracks me up." She asked Biden to be her date in a note, threatening that her second choice was John Boehner. "And we can't have that now can we."
"I am inviting you so far in advance because I'm sure many 17-year-old girls send you prom invitations, and I had to beat them to it," she wrote months ago. "I could only tolerate a high school dance if I was to be escorted by the most delightful man in America." For obvious reasons, Biden turned her down, but at least he was nice about it, if a little late.
"I am flattered, but my schedule will not permit me to be in Connecticut on Friday evening," the vice president wrote back, along with an invite to the White House. "But I hope you will accept this corsage and enjoy your prom as much as I did mine." A white rose and baby's breath accessory were included.
Biden's response, though, came on Thursday evening, the day before the dance, and Maselli didn't end up going anyway. But he didn't quite stand her up: "I was never really looking forward to going to prom," she said. "I'm looking forward to going to Washington D.C." As for Boehner, he was just a punch line.