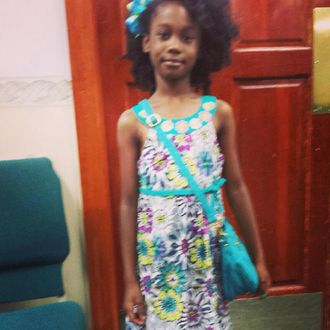 Rebecca Ramnarine.
Photo: Image via Ramnarine Family.
A 9-year-old girl was killed on Sunday afternoon after attending church when the car she was riding in was hit by a car fleeing police in Canarsie. Rebecca Ramnarine of St. Albans, Queens was heading to dinner with her 11-year-old friend and a her friend's mother when a Honda Odyssey minivan plowed into the back of their Hyundai Elantra. Police say they had stopped the Odyssey driver after he hit another car and fled the scene. As they approached the vehicle on foot, the 62-year-old driver sped away. He made it two blocks before hitting the Hyundai and another car, injuring six people.
Ramnarine was pronounced dead at Brookdale Hospital. Her friend suffered a broken pelvis, and she and her mother are both in stable condition. The three people in the second car were treated for minor injuries. No one was seriously injured in the first accident.
Rebecca's mother and father, Abiola and Richard Ramnarine, were traveling behind the Hyundai and arrived on the scene about two minutes after the crash. "She was a rambunctious 9 year old," the mother told the Post. "She loved to dance, she wanted to be a pediatrician." Her father said of the driver, who was taken into custody, "I'm not angry at him. He took my daughter's life and I'm hurting. But we're going to allow the course of justice to take its course."