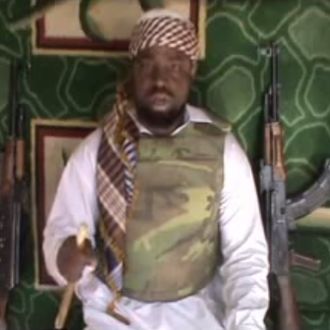 Shekau, the Boko Haram leader.
With international attention intensifying and more than 200 schoolgirls still gone, the terrorist group that has claimed responsibility continues to carry out attacks. Around 300 people were killed in a Boko Haram invasion of the northern Nigerian town of Gamboru Ngala in the state of Borno, AFP reports, with a local leader saying the insurgents spent 12 hours killing defenseless citizens with rifles, IEDs, rocket launchers, and more. "The attackers stormed the communities in the night when residents were still sleeping, setting ablaze houses, shops and residents who tried to escaped from the fire, were shot," said Senator Ahmed Zannah, who is from the area.
Nigerian newspaper Vanguard reports that security forces meant to protect the town were going after the kidnapping victims and "moved to the Lake Chad axis when they received [an] intelligence report that some gunmen were sighted with abducted schoolgirls moving to the area." That's when the terror began.
Boko Haram, an Islamic jihad group led by Abubakar Shekau, has been targeting innocent people in bombings at bus stops, mass abductions at schools, and attacks on churches for years, but has only now entered the consciousness of Western media following the capture of the schoolgirls and promise to sell them into slavery. "What we've done is — we have offered, and it's been accepted — help from our military and our law enforcement officials," President Obama said yesterday. "We're going to do everything we can to provide assistance to them."