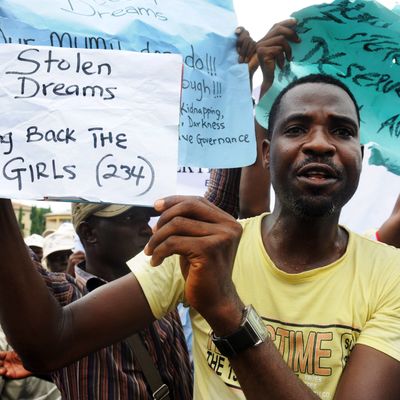 Photo: Pius Utomi Ekpei/AFP/Getty Images
The terrorist group Boko Haram has claimed responsibility for the abduction of more than 200 girls from a school in Nigeria last month, following weeks of silence. "I abducted your girls. I will sell them in the market," said leader Abubakar Shekau, according to AFP, which obtained video of the chilling admission. Reports from elders in Chibok, where the young women were being educated, said the missing may have been transported to Chad and Cameroon, married in mass ceremonies to the Islamic militants, or otherwise sold for about $12 each. Boko Haram, which terrorizes the region in the name of Sharia law, translates to "Western education is a sin" in a local language.
Meanwhile, the #BringBackOurGirls protests continue from Nigerians who feel the government has not done enough to find the victims. While a few of the teenagers have escaped on their own, about 234 are said to still be missing and have been since the night of April 15. (For more background on the ordeal, read here.) The military, which is known for exaggerating its successes against the terrorist group, originally claimed it had rescued the girls, but it had done nothing of the sort.
The Nigerian government is not taking kindly to the criticism: The BBC reports that Naomi Mutah, a Chibok representative, was detained by the police after meeting with the first lady about the search and rescue efforts. Patience Jonathan, the president's wife, "reportedly felt slighted that the mothers of the abducted girls had sent Ms. Mutah to the meeting." A fellow Chibok community leader said the detention of the protest leader was "unfortunate" and "insensitive," which, if anything, seems like an understatement, all things considered.