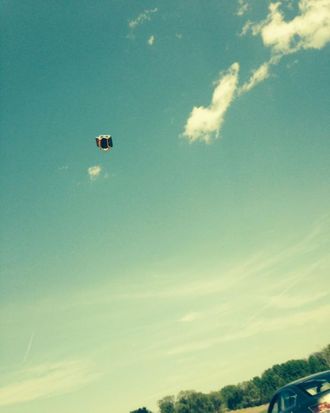 Remember balloon boy? This is almost like that, but reportedly real and thus terrifying: An inflatable bounce house, a.k.a. a bounce castle, flew 50 feet into the air in upstate New York yesterday, seriously injuring two children. Three kids were inside at the time, the South Glens Falls Post-Star reports, but fell out when the unstable structure was about 15 feet high. "It was like a horror movie," said a witness. "It just kept going up and up. It cleared our building and the trees." Above, apparently, is a photo of the bounce house floating away.
The three kids, ages 5, 6, and 10, fell out of the toy. The two boys were seriously injured. The girl suffered minor scrapes and bruises

Parents say one boy landed on a parked car, the other landed on asphalt.
The Little Tikes–brand bounce house was about ten-by-ten feet and reportedly staked into the ground, according to the Post-Star, but could not be held down. "My older daughters witnessed it and said it was just horrible," said the mother of one of the children. "A big gust of wind just blew it right off the ground with the kids in it. It's just sickening." Sorry, kids, no more bounce houses.
Update: