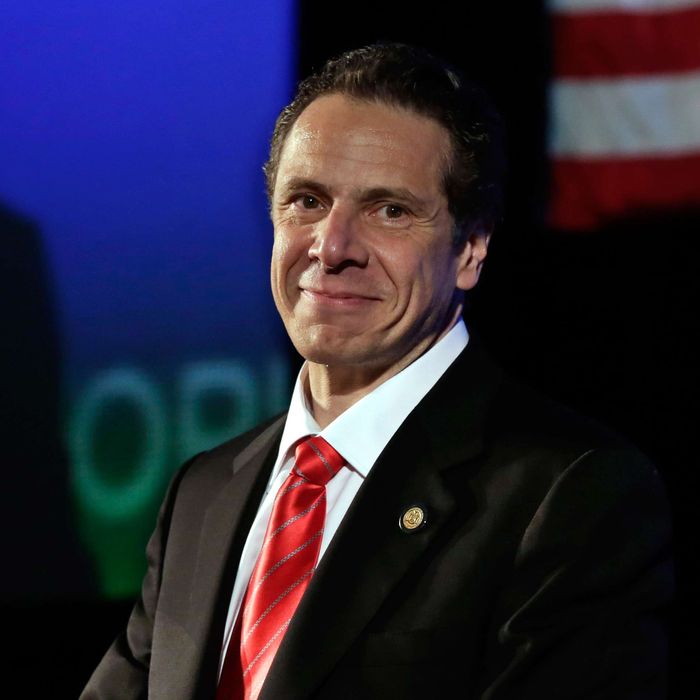 Photo: Richard Drew/AP/Corbis
Governor Andrew Cuomo took the stage in front of a blue backdrop sprinkled with the state Democratic Party's kicking donkey logo and delivered an appropriately feisty speech today. In accepting his nomination for a second term, Cuomo was strong on both substance and style: He highlighted New York's declining unemployment rate and taxes, and his victories in legalizing gay marriage and stiffening gun laws, interspersing the facts with some nice rhetorical touches. "We believe in the concept of community," Cuomo said. "A cord that connects me to you to you to you."
It was a high-decibel, highly choreographed, and highly successful campaign kickoff. Yet the grand finale of the state Dems' convention, out on Long Island, also felt like a warm-up act for a different convention next week, up in Albany, at which Cuomo won't even appear, physically — though he'll be a main subject of conversation.
The Working Families Party will gather to hash out many things, but what will grab the most political attention is its messy codependent relationship with Cuomo. At the simplest level, the WFP needs Cuomo as its candidate this fall to guarantee the party logs at least 50,000 votes and retains its statewide ballot line; Cuomo needs the WFP endorsement to shore up his left flank and widen his expected victory margin over Republican Rob Astorino. But as with every marriage built more on convenience than affection, things are complicated, with hurt feelings and tension all around.
The WFP is an interesting, and often highly effective, polyglot composed of labor unions and liberal advocacy groups. Its two political power centers are divided over endorsing Cuomo. Leaders of the advocacy groups, like Citizen Action, want the governor to press harder for campaign finance reform. The labor unions care more about jobs and wages. How $8 billion in federal Medicaid reform money gets spent in New York, for instance, is important to health-care workers; whether the state's new casinos are required to employ union staff matters to the hotel trades unions. And Cuomo will have great influence over both issues. "We all like campaign finance reform," a WFP strategist says, "but we have practical concerns to think about too."
The governor's camp has floated the idea that Cuomo could lean on the unions — who provide much of the WFP's budget — to split from the party. "That would be very damaging — unless the WFP is planning on becoming the Jonathan Soros Party and he's going to fund the whole thing because he cares about campaign finance reform," a labor insider says. The divide probably won't go that far. Lately the governor has been brokering conversations between the WFP and state legislative leaders, seeking a compromise on campaign finance — though some of the horsetrading involved is why the idealists disdain him.
Cuomo thinks he's done more than enough to earn the respect, if not love, of liberals, especially on social issues. Today he tried to shore up his economic inequality credentials as well, bringing out the world's tallest progressive, Mayor Bill de Blasio, for an enthusiastic introduction. Yet it was the very end of today's event that seemed the most direct acknowledgement that Cuomo still has some selling to do. "Give us four more years," he shouted, "and this state is going to be stronger and better and sweeter and fairer than it's ever been before!"